While the expansion draft is set to headline a busy NHL offseason, there are still several other storylines for each team in the months ahead. Here is a closer look at what lies ahead for the Florida Panthers.
After a surprising postseason run in 2015-16, the Panthers removed Dale Tallon from the GM post with Tom Rowe taking over.  He signed several core players to long-term extensions but the team failed to perform to expectations and Gerard Gallant was let go as head coach before long with Rowe taking over there as well.  The struggles continued and Rowe was relieved of both duties after the season (although he remains with the organization).  The reins have been handed back to Tallon after a year of wackiness; here's what's on the docket for Florida this offseason.
Hire A Coach
The obvious task is to name a new bench boss to take over from Rowe.  Tallon has cast a wide net and has been very thorough so far.  Among those known to have interviewed are former Canadiens coach Michel Therrien and Denver (NCAA) coach Jim Montgomery who are believed to have gone through a couple of interviews.  The team reportedly has interest in Washington associate coach Todd Reirden as well while Nashville assistant Phil Housley has also been suggested and there are likely others that are flying under the radar at the moment.
While there is no stated timetable to make this hire, presumably Tallon will look to get this wrapped up within the next two to three weeks.  It's reasonable to think that the new coach will want input on any potential moves and the expansion draft (which is likely to really kick start the offseason movement) is now less than a month away.
Jagr's Future
Although he fell well short of the 66 points he put up a year ago, Jaromir Jagr still had a fairly productive season, picking up 46 points (16-30-46) while playing in every game.  Not too shabby for someone who turned 45 back in February.  Jagr is slated to become an unrestricted free agent in July and will likely be headed for another one year contract; he has stated that he intends to plan in 2017-18.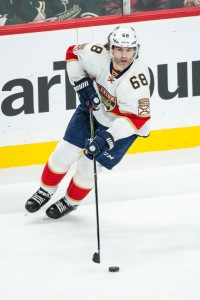 Several members of the organization have lauded Jagr's contributions not only on the ice but off of it as well in terms of mentoring some of their younger players.
However, he is really starting to slow down and we're seeing more and more how important speed is in the current NHL.  If the Panthers are looking to play an up-tempo style, Jagr may not be the best fit for them.
If there is mutual interest in a return, it wouldn't be surprising to see Jagr take a bit of a pay cut.  He earned a base salary of $4MM this season while hitting another $1.5MM in games played incentives.  Florida already has a little over $60MM committed to 16 players for next year and they haven't been a team that has typically spent to the ceiling so slotting him in for another $5.5MM doesn't seem like a likely scenario at this time.
Reshape The Defense
Last summer, the Panthers transitioned into a team that relied heavily on analytics and in particular, they looked to rebuild their blueline with more emphasis on mobility and puck possession.  While the individual acquisitions made sense at the time, the unit as a whole really failed to live up to expectations, especially at the defensive end.
While it's unlikely that Tallon will completely tear apart the defense corps, it wouldn't be surprising at all to see him try to bring in more of a prototypical stay-at-home player to give at least one of the pairings a new look.  Failing that, adding some grit to their blueliners is another potential move to change things up.  However, given their cap situation, they're probably not going to be looking at the higher-end free agents (or possible trade acquisitions).  Any moves made will likely come out as tweaks but that coupled with a new coach may be enough to turn around what is a quality unit, at least on paper.  Given that they allowed 34 more goals this year than last, it may go a long way towards getting them back into the playoff picture as well.
Photo courtesy of USA Today Sports Images.