Though he hadn't played at all this season, Paul Martin has officially announced his retirement with help from Michael Russo of The Athletic. Martin was bought out this summer by the San Jose Sharks after they couldn't find a trade partner to take his contract off their hands, and there was no deal to be found after that. San Jose will pay him just over $1.4MM this year and next, while he moves on to the next chapter in his life and career.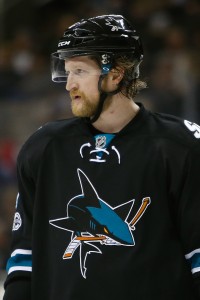 Martin, 37, was a rock solid two-way defenseman for nearly 1,000 games between the regular season and playoffs. Originally selected by the New Jersey Devils in 2000, he spend three seasons at the University of Minnesota where he won two National Championships and became a program legend. It didn't take long for him to translate that college success into an NHL career, stepping right onto the Devils blue line and finishing his rookie season with 24 points in 70 games. Martin never looked back, playing exactly zero games in the minor leagues until his final season last year, when the Sharks didn't have room for him in the NHL.
Though never flashy, Martin racked up points while being a reliable partner to several other offensively-minded defensemen over the years. He will finish his career with 320 points in 870 regular season games, while also having suited up for USA Hockey at the World Junior Championship, World Cup, World Championship and Olympic Games. He reached the Stanley Cup Finals with the Sharks in 2016, losing to the team he'd played for a year prior in Pittsburgh. He never did get the chance to raise the Cup over his head, but given how his teammates speak about him in Russo's piece, that never changed how hard he worked or how admired he was on and off the ice.
As Russo writes, Martin intends on spending more time on his foundation Shine A Ligh7 now that he won't be pursuing that Stanley Cup any longer.
Photo courtesy of USA Today Sports Images