Winnipeg Jets winger Kyle Connor is the recipient of the 2022 Lady Byng Trophy, given "to the player adjudged to have exhibited the best type of sportsmanship and gentlemanly conduct combined with a high standard of playing ability." The other finalists were Jaccob Slavin of the Carolina Hurricanes (who was last year's winner) and Jared Spurgeon of the Minnesota Wild, who was a finalist last season as well.
Connor, who had just 12 penalty minutes last season, registered only four this year, an incredible number when one considers the fact that Connor played in 79 games and averaged nearly 22 minutes of ice time per game. Picking up a few minor penalties over the course of a season thanks to an errant stick or a lapse of judgment on a clearance that leads to a puck over the glass is something that should be expected of any player. So the fact that Connor only registered four minutes in the box despite playing as much hockey as he did is extremely impressive. Connor received 122 first-place votes, dwarfing Slavin's second-place mark of 31 and Spurgeon's six first-place votes, an indication of just how widespread the appreciation for Connor's game was.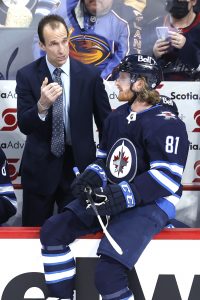 Beyond just on-ice character, the Lady Byng is about combining sportsmanship with high-end play. Connor did just that, smashing his career highs in goals and points to post 47 goals and 93 points, which led the Jets in each category. It can sometimes be a challenge for voters to balance how to value a player's sportsmanship with their on-ice play, but in the case of Connor there could not have been such difficulty, as he was indisputably brilliant in both respects.
After Connor, Spurgeon, and Slavin, the top-five vote-getters were rounded out by Toronto Maple Leafs forward Mitchell Marner, who got two first-place votes, and New York Rangers center Mika Zibanejad, who did not get a first-place vote but got 17 second-place votes. Also of note is Devils star Jack Hughes, who actually placed fourth in terms of first-place voting, landing five such nods despite missing a bulk of the season. Hughes did not register a penalty minute this season, and a Lady Byng win could definitely come his way in the future.
Photo courtesy of USA Today Sports Images