The U.S. Hockey Hall of Fame has announced the class of 2019, which will include Gary Bettman, Brian Gionta, Neal Henderson, Tim Thomas and Krissy Wendell. The five will be inducted on December 12th in Washington, D.C.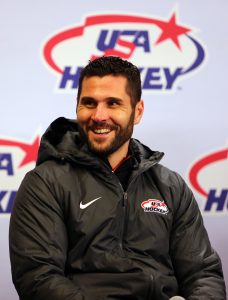 Bettman has served as the commissioner of the NHL for the last 26 years, joining the league in 1993 after working with the NBA. While he is a controversial figure with many fans thanks to the multiple work stoppages that the league has gone through, there is no denying his impact in growing the game all over North America and the world. The NHL is about to welcome its 32nd franchise into play with the Seattle expansion and hockey markets have been developed in countless non-traditional areas in the United States. Bettman was inducted into the Hockey Hall of Fame in 2018.
Gionta finished his playing career in 2018 with a bang by captaining Team USA at the 2018 Olympic Games, pulling on a sweater he has done many times in the past. The veteran of more than 1,000 NHL games has suited up for USA Hockey at the Olympics, World Championships, World Juniors and several other international tournaments over the years, representing his country well on the world stage. The Boston College star was an All-American before his professional career started and is currently ranked 43rd among American-born skaters in NHL points.
Thomas last played in the NHL during the 2014 season but is one of the most decorated American-born goaltenders in history. The proud recipient of the Stanley Cup, Conn Smythe, Vezina Trophy (twice), William Jennings Trophy, Olympic silver medal and World Championship bronze, Thomas' spot in the U.S. Hall was only a matter of time. The goaltender represented his country several times on the international stage, including before his professional career even began and he was still playing at the University of Vermont.
A key part of the development of women's hockey in the United States, Wendell represented USA Hockey on many occasions at the international level, including captaining the 2006 Olympic bronze medal-winning squad. With two Olympic and six World Championship medals, she's one of the most decorated American-born women to ever play the sport. An incredible offensive talent, Wendell put up 247 points in 147 games while representing the United States and finished her collegiate career at the University of Minnesota with an 104-point season, despite playing just 40 games.
Henderson, a finalist for the Willie O'Ree Community Hero Award in 2018, has been a constant in the D.C. area hockey community for the last four decades. His programs have helped young players who wouldn't otherwise have a chance to learn the sport, while spreading the game throughout the area.
Photo courtesy of USA Today Sports Images