The next stage of Brian Gionta's hockey career is about to get underway, as Niagara University has announced him as their new director of player development. This move follows a few years of coaching in the Buffalo Jr. Sabres program and could suggest a front office future for the former NHL forward.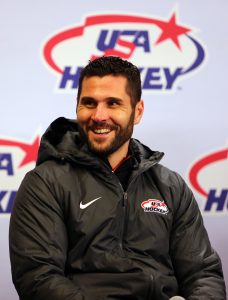 Jason Lammers, the head coach of Niagara, released the following:
Brian's commitment to developing players and helping them reach their full potential is his priority. Brian's strong leadership skills and passion for the game are Uncommon and will bring a new level of development for our student-athletes both on and off the ice to the program.
Gionta, 43, retired in 2018 after captaining the U.S. at the Olympics, the second time he had suited up for his country at the Games. A veteran of over 1,000 NHL games, he served as captain for the Montreal Canadiens and Buffalo Sabres, while racking up 291 goals and 595 points. His college career was outstanding, finishing as a Hobey Baker finalist three times while winning the NCAA championship in his senior year at Boston College. He won the Stanley Cup in 2003 with the New Jersey Devils, and was inducted into the U.S. Hockey Hall of Fame in 2020.
It potentially means nothing, but a move like this could indicate Gionta's desire to climb the ladder in hockey development and operations. If he chooses, there will likely be many teams that would be willing to leverage his experience and knowledge. The third-round pick carved out an excellent career and was exceptionally well-respected during his time as a player.
Photo courtesy of USA Today Sports Images