It wasn't clear what the future held for Henrik and Daniel Sedin, as the twin forwards wouldn't talk about it during the season. Today, they've decided to break that silence and announce that 2017-18 will be the last season of their careers. In a letter to Vancouver Canucks fans, the twins explained:
We started the year with the mindset that a decision would be made in the postseason. But it became clear, after discussions with our families throughout the year, that this will be our last season. This feels right for all of us.

Being part of the Canucks family for 18 seasons has been the best period of our lives. But it's time to focus on our families and life after hockey. It's time to help with homework every night. It's time to be at every birthday party and to stand in the cold at every hockey rink, soccer game and riding lesson on weekends. It's time to be at home for dinner every night.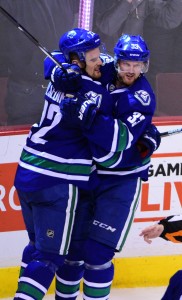 The Sedins were scheduled to become unrestricted free agents this summer, and there was some question about whether the Canucks should even want to re-sign them at this point, as the team continues to try to rebuild around young stars like Brock Boeser. The 37-year old forwards were each earning $7MM this season, meaning the team will have quite a bit of extra room to play with in the coming years.
In 1999, the brothers from Ornskoldsvik, Sweden would need some draft floor magic from then-GM Brian Burke to end up on the same team. After several trades to position himself with the second and third overall picks, Burke would proudly select both brothers at the same time, a connection that would in effect never be broken. Though their arrival would be delayed by another year spent playing for MODO in the Swedish Elite League, the Sedins would never look back after making their way to Vancouver.
Breaking into the league just a few days after turning 20, Henrik and Daniel would only show flashes of their eventual brilliance in those first few seasons. The playmaking Henrik was famously left out of the Calder voting altogether, while Daniel—who always leaned more towards goal scoring—would garner just a handful of votes. Still, as they matured they also refined an incredible ability to find each other on the ice and dominate shifts by seemingly never giving up the puck. Playing on the same line for the vast majority of their careers resulted in some phenomenal seasons, and individual success for both of them.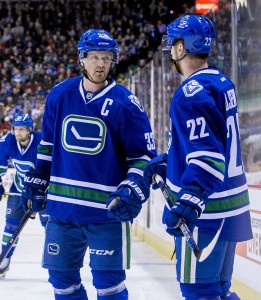 First in 2010, when Henrik took home the Hart Trophy as the league MVP and won the scoring race with 112 points. Like always, Daniel wasn't far behind and won the Art Ross with 104 points the following year, finishing second in Hart voting but winning the Lester B. Pearson (now Ted Lindsay) award for best player as voted by his peers.
Even through their incredible careers, there was never a moment where they could lift the Stanley Cup together. Though there was one Finals appearance, Vancouver was generally unable to find much postseason success through their 18-year career, and this year will be no different.
In 2,630 combined regular season games, the Sedin twins have amassed 2,106 points and have always been regarded as some of the classiest and friendly players in the game. They were the faces (or is it just face?) of the Vancouver franchise for more than a decade, and will surely go into the Hall of Fame together.
Never ones to quit before the season is over though, they signed off with one last promise to Vancouver fans:
In the meantime, we still have some games to play, and we still have some work to do.