Free agency is now a little more than a month away from opening up and there are quite a few prominent players set to hit the open market while many teams have key restricted free agents to re-sign.  Here is a breakdown of Vancouver's free agent situation.
Key Restricted Free Agent: F Sven Baertschi —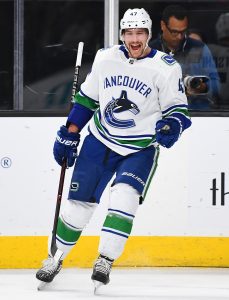 Considered to be a player who could break out at any time, the 25-year-old restricted free agent never has had the opportunity as injuries have derailed any true success so far. Having already played in parts of seven seasons and three complete seasons, Baertschi has never played a full season or even close to that much (his season high is 69 games back in 2015-16). This past year, the winger only got into 53 games as he dealt with a jaw injury in December after being hit in the face with a puck and then separated his shoulder in March that ended his season. With 14 goals and 29 points, Baertschi has the potential to contribute to a young team if he can stay healthy.
While the team will likely find a way to ink him to a one-year extension (he made $1.85MM each of the last two years), the team must also determine if he's a core player who will be a major contributor on his team in the future. Another injury prone year could force the team to move on from him if he can't prove that he can stay on the ice.
Other RFA's: F Reid Boucher, F Cole Cassels, D Anton Cederholm, F Michael Chaput, F Markus Granlund, F Griffen Molino, D Derrick Pouliot, D Troy Stecher, D Mackenze Stewart, F Jake Virtanen.
Key Unrestricted Free Agent: F Darren Archibald — Archibald's name suggests that the team has little to worry about when it comes to their own free agents. With just three NHL-level unrestricted free agents, Archibald's value stands out. The 6-foot-3, 210-pound wing provides the team with grit, solid skating and physicality and has started to step up for Vancouver this season. A long-time AHL player, Archibald got into 27 games for the Canucks this season, putting up four goals and nine points and was a favorite of coach Travis Green and might be a cheap fourth-line option for Vancouver (he made $650K last season) rather than the franchise go out and sign a veteran for that spot.
Other UFA's: G Richard Bachman, F Nic Dowd, F Jussi Jokinen, F Joseph Labate, F Jayson Megna, D Patrick Wiercioch.
Projected Cap Space: The team should have plenty of cap space if the team is ready to spend after the retirements of Henrik Sedin and Daniel Sedin. They have a little less than $53MM committed to players for the 2018-19 season and few contracts of their own that they have to deal with. The team could attempt to add a few veterans to mesh with their young core of Bo Horvat, Brock Boeser and Elias Pettersson and must focus more of their attention on their defense, but they do have plenty of space to do that.
Photo courtesy of USA Today Sports Images.