After one last season with the Anaheim Ducks in which he was called upon more often than many expected, Francois Beauchemin has called it quits. The veteran NHL defenseman confirmed his retirement on 98.5 Sports radio in Montreal. Explaining that it's time to take care of his children, Beauchemin will hang up his skates after parts of 14 seasons in the NHL.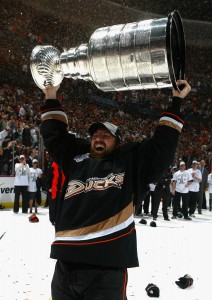 Selected in the third round back in 1998 by the Montreal Canadiens, Beauchemin struggled through his first few professional seasons, even spending time in the ECHL. The smooth-skating two-way defender had holes in his game that needed to be ironed out, and eventually found himself on waivers after failing to make the Canadiens once again. Claimed by Columbus and then later traded to Anaheim (as part of a package for Sergei Fedorov), it likely was the best thing that could happen to his career.
Beauchemin would become a huge part of the Ducks defense immediately, and form a player-organization bond that would span three stints and more than a decade. In his first season he logged more than 24 minutes a night for the club, something that would become a hallmark of his career. A premiere minute-eater, Beauchemin averaged over 23 minutes a night for his entire career, and would be a necessary third wheel to Scott Niedermayer and Chris Pronger for years.
In 2006-07, just his second season with the Ducks, Beauchemin raised the Stanley Cup after defeating the Ottawa Senators in five games. He averaged more than 30 minutes per game during that playoff run, more even than his two legendary teammates.
His career would continue to Toronto, then back to Anaheim, then to Colorado before finishing with this final season in Anaheim. Signed in the offseason after a buyout from the Avalanche, he was expected to be a depth option while the team dealt with injuries to Sami Vatanen and Hampus Lindholm. Instead, he would lead the team in blocked shots and play a key role in getting them back to the playoffs.
Beauchemin finishes his career with 288 points in 903 career games, logging over 21,295 minutes in all. He finished fourth in Norris trophy voting during the shortened 2012-13 season, and was named to the Second All-Star Team in the same year.