It's no secret that the Pittsburgh Penguins have been looking for a third-line center to augment their forward group for some time. GM Jim Rutherford has been clear that there were options for him stretching back into the summer, but that he wasn't ready to make the deal until the right "impact" player surfaced. The Penguins are righting the ship after a rough start to the season, but have been relying heavily on their top-six to provide much of the offense.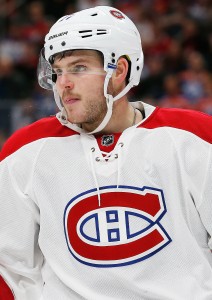 Now, in the latest version of "Insider Trading" on TSN, Darren Dreger connects the Penguins with much-maligned forward Alex Galchenyuk of the Montreal Canadiens. Dreger says that Galchenyuk's name has "surfaced" though there is no clear report of any talks between the two clubs.
While the Montreal Canadiens continue to slump their way to a 1-5-1 record, bereft of any offensive threat, trading a talented forward like Galchenyuk may seem misguided. The problem is that though many have seen his offense in the past, none of it has appeared this season. Galchenyuk has just one goal—on the powerplay at that—and no assists this season through seven games, and has seen his ice time reduced to the lowest it has been in several years. At one point he was on the fourth line in Montreal, and he is clearly no longer a center in the eyes of head coach Claude Julien.
So the question is whether the Penguins believe that Galchenyuk could recover some of that lost offensive magic he showed in the 2015-16 season, when at the age of 21 he scored 30 goals and 56 points. Whether the team believes he is a true center is another story, as is his fit into their salary structure. This summer, Galchenyuk signed a three-year deal worth $4.9MM per season. The Penguins meanwhile have just under $2.2MM in cap space, though the longer they wait the less Galchenyuk would actually cost. Now that the season has started, every day that passes drops the prorated salary down another peg.
If a deal was to be made soon though, there would need to be salary going the other way. It would be interesting to see what Montreal would be after, as they would be able to find room for a defenseman or forward. In the meantime, Galchenyuk will have to try and get his game going on his own, and hopefully entice a buyer of some sort to come knocking at Montreal's door.
Photo courtesy of USA Today Sports Images