As Thanksgiving and the holiday season approaches, PHR will be taking a look at what teams are thankful for in 2023-24. There also might be a few things your team would like down the road. We'll examine what's gone well in the early going and what could improve as the season rolls on for the Calgary Flames.
Who are the Flames Thankful For?
After being the de facto captain for the last few years, Backlund was officially awarded the letter prior to this season, and he's taken it on in stride. Calgary is by no means off to the start that they would have hoped for but Backlund has remained poised and in control of his team. That includes when he had to handle the curt trade request that Nikita Zadorov issued following the conclusion of an 0-1 shootout loss. Sportsnet's Eric Francis spoke to the captain about that incident, sharing that Backlund spoke one-on-one with Zadorov before the defenseman spoke to the whole team, in an effort to make sure that no unnecessary tensions were created. New general manager Craig Conroy was impressed by the situation, telling Francis, "He's taking charge and that's what the captain has to do. You'd like to not have to do that, but there are things that come up that need to be addressed, and he hasn't been shy to do that." That kind of leadership is exactly what a struggling contender like the Flames needs – and it's a pleasant boost after the team went two seasons without a captain.
What are the Flames Thankful For?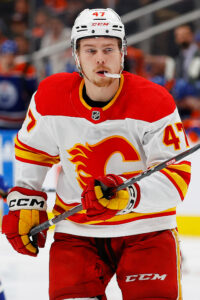 Their youngsters
In a year of challenges, the Flames can at least be impressed with the performances their prospects have brought to the top stage. Connor Zary looks tremendous in his first NHL season, currently carrying eight points through his first nine NHL games. He's managed this performance after starting the year with 10 points in six AHL games, clearly proving that he deserved a spot with the top club. Zary is averaging the fourth-most minutes of any Flames forward and isn't showing any signs of slowing down. Much of the same can be said about Martin Pospisil, who scored his first NHL goal in his first NHL game and has since gone on to net six points in nine games on the year. Pospisil is the second-youngest player on the starting lineup, at 24, and earned an NHL recall after scoring six points in six AHL games.
Former first-round pick Matthew Coronato has also held onto a strong season, despite losing his NHL role after 10 games. He's managed 11 points in 10 AHL games, good for third in scoring on the AHL's Calgary Wranglers.
What Would the Flames be Even More Thankful For?
Top-End Scoring
There are a lot of little things that could improve the Flames early season. But with Jacob Markstrom taking a serviceable step forward – albeit an improvement from a .892 save percentage to a .904 – it seems only right to say the Flames are more in need of an X-factor skater than anything. Jonathan Huberdeau has continued to struggle with Calgary, after scoring 115 points in his last year with the Florida Panthers, and with no Matthew Tkachuk or Johnny Gaudreau, the Flames are left wondering who their big difference-maker can be. The team is currently led in scoring by Elias Lindholm, who has 13 points in 19 games. He's paced by Huberdeau and Nazem Kadri, who both have 12 points in as many outings. That's certainly serviceable scoring but it's not enough to takeover games, and has the Flames sat with the sixth-fewest goals in the league.
But it's not all bad. Despite the low scoring, the Flames still roster three players that have scored 80-or-more points in a season before, and they have averaged 3.4 goals-per-game over their last five games, after averaging 2.6 through their first 14 games. That's a healthy boost and has earned the Flames three wins, one loss, and one shootout loss in the five game stretch. Noah Hanifin has spearheaded the effort, scoring four points in his last five games. If they can maintain this offense, Calgary could find a way to make up for their lack of a true top-end scorer.
What Should Be On the Flames Holiday List?
A Lavish Trade Partner
The Flames are reportedly shopping around a slew of players, including top defender Hanifin, shutdown defenseman Chris Tanev, and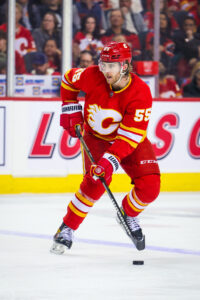 even top-scorer Lindholm at points. They've also received a trade request from Zadorov. Each of these players could warrant a hefty trade return, in a vaccuum. But the cheapest cap hit of the trio is Zadorov's $3.75MM and Tanev's $4.5MM, which is still a hefty amount for many teams to take on.
Still, there is no shortage of teams that could benefit from a deal with Calgary. Vancouver's right-defense is still a weakness, and upgrading it could be a big boost to their thriving offense. The Toronto Maple Leafs recently placed John Klingberg on long-term injured reserve and are reportedly interested in Zadorov. And with Calgary boasting Dustin Wolf as their third-string goalie, making backup Daniel Vladar theoretically expendable, they may even garner trade interest from a team like the Edmonton Oilers, who are in need of any kind of help after their 6-12-1 start to the year.
It seems to be a buyer's market and the Flames have no shortage of pieces that they could move. If they can't get a spark on the ice, a flashy trade return could help a team with thriving stars hedge their future bets.