Free agency is now just hours from opening up and there are quite a few prominent players set to hit the open market while many teams have key restricted free agents to re-sign. Here is a breakdown of Winnipeg's free agent situation.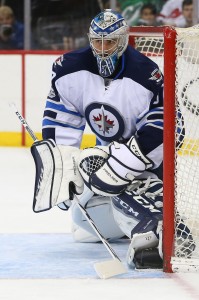 Key Restricted Free Agents: G Connor Hellebuyck – After a mediocre 2016-17 season, Hellebuyck and the Jets opted to settle on a one-year contract rather than work out a long-term pact.  That's a decision that turned out quite well for the netminder as he led the league in wins and games played while posting a very strong 2.36 GAA and a .924 SV% before following that up with nearly identical numbers in the postseason.  That has him in line for a big raise from the $2.25MM he made this past season.
Unlike last summer, the 25-year-old is eligible for salary arbitration this time around as well.  He's two years away from UFA eligibility so this will be the time to get a long-term pact done as they won't want to risk giving Hellebuyck the option to simply file for a hearing next summer, take another one-year deal, and head for free agency in 2020.  He doesn't have the long-term success to get top dollar but his numbers at this time in his career are pretty close to San Jose's Martin Jones before 2017-18 when he signed a six-year, $34.5MM contract (7.67% of the salary cap).  A new deal for Hellebuyck could check in at that amount as well.
D Jacob Trouba – It took a long time to get a deal done last time around as discussions wound up lasting into the 2016-17 season.  It shouldn't take as long this summer as Trouba has arbitration rights so if he wants to ensure a contract is done well before training camp, he can simply file for a hearing and then there won't be a holdout situation.
Finding the right value is going to be a challenge, however.  Two years ago, the 24-year-old had a career year despite the contract squabble.  He wound up with 33 points in 60 games and averaged nearly 25 minutes a night.  Things didn't go as well in 2017-18 though.  He had trouble staying healthy (playing in just 55 contests), his point total dropped to 23, while his ATOI was the lowest of any of his five NHL seasons (21:54).  Trouba may very well want to be paid like a top pairing defender but his output was more of a second pairing player.  That's the gap they're going to need to bridge in negotiations.
Other RFAs: G Eric Comrie, F Marko Dano, F Nicolas Kerdiles, F J.C. Lipon, F Adam Lowry, D Josh Morrissey, F Nic Petan, D Tucker Poolman, F Brandon Tanev
Key Unrestricted Free Agent: F Paul Stastny – The veteran fit in quite well with the Jets who acquired him at the deadline.  He wasn't counted on to be the number one center like he was in St. Louis and the lesser role fit him quite well.  He was quite productive for them down the stretch and in the postseason and there is mutual interest in him returning.  On the other hand, he is the second best center available on the open market and is bound to receive several big offers.  Winnipeg made a move on Saturday to free up cap room to help give them a shot at bringing Stastny back but with all of their other players to re-sign, they may still be in tough to do so.  Early indications are that they still aren't in agreement on terms and that Vegas is now the front-runner for his services.
Other UFAs: D Toby Enstrom, F Matt Hendricks, G Michael Hutchinson, D Jan Kostalek, F Jimmy Lodge, F Shawn Matthias, D Julian Melchiori, G Jamie Phillips, F Buddy Robinson, D Cameron Schilling, F Michael Sgarbossa
Projected Cap Space: The good news is that Winnipeg has plenty of cap room to work with as they sit nearly $28.2MM below the cap, per CapFriendly.  They have a lot of core players to sign though and by the time they do that and fill out the rest of their roster, it's doubtful that they'll have enough to be players in free agency or the trade market unless they free up some more funds first.
Photo courtesy of USA Today Sports Images.