Former Vancouver Canucks head coach Travis Green is reportedly set to join the New Jersey Devils coaching staff under head coach Lindy Ruff, according to Sportsnet's Elliotte Friedman. He'll fill the role vacated by Andrew Brunette, who was hired by Barry Trotz and the Nashville Predators to be their next head coach.
Per Friedman, Green chose New Jersey over a few other options, such as joining the coaching staff of either the Calgary Flames or Toronto Maple Leafs. With the Devils, Green will get the opportunity to coach a team bursting at the seams with young talent and high-end players.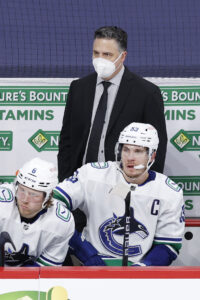 The Devils took a major step forward this past season, defeating their arch-rival New York Rangers in the first round of the playoffs and cementing themselves as a force to be reckoned with in the Metropolitan Division.
Their future looks bright, and it's a future Green will now get to be a part of. Joining Ruff's bench seems a wise choice for a coach likely looking to earn another chance to be an NHL bench boss.
The Devils look like a team that could soon contend for a Stanley Cup, and with one assistant already plucked from Ruff's staff to be a head coach elsewhere it would be no surprise to see a future where teams come calling with interest in hiring Green.
In Brunette's vacated role Green will be responsible for running the Devils power play. The Devils ranked 13th in the NHL with a 21.9% power play percentage, and Green will hope to improve that number next season.
There's surely an opportunity for growth on a power play unit that boasts one of the league's best offensive defensemen, Dougie Hamilton, alongside star forwards such as Jack Hughes and Jesper Bratt. Green also has to be excited at the prospect of having Timo Meier, who the Devils acquired from the San Jose Sharks in a mid-season trade.
Vancouver's power play ranked fourth in the NHL in 2019-20 under Green, and also managed a top-10 finish in 2017-18. But in both 2018-19 and 2020-21, Vancouver's man advantage was outside the NHL's top 20 and as head coach of the Utica Comets Green's power play was never among the AHL's best.
The most significant determinant of a power play unit's success is personnel, of course, but Devils fans must nonetheless be excited by some of the high power play rankings on Green's resume.
Green, 52, played nearly 1,000 games in his NHL playing career and was a head coach in Vancouver for nearly five seasons. While he dealt with some significant challenges and his tenure ultimately ended in disappointment, he did have his moments behind the bench for the Canucks.
He led them on a surprising playoff run in the Edmonton bubble in 2019-20, with his team nearly knocking off the Vegas Golden Knights to reach the Western Conference Final.
Now he'll get his second chance to coach in the NHL, and it's with an entirely new team.
He does have one notable connection to the Devils organization: their current AHL affiliate is the Comets, the team Green coached for four seasons and led to the Calder Cup Final in 2015 back when it was the affiliate of the Canucks. Now, the former Utica bench boss will get to coach a host of former Comets players in New Jersey.
Photos courtesy of USA Today Sports Images