The Ottawa Senators have traded defenseman Nikita Zaitsev to the Chicago Blackhawks, in a move that concludes the Senators' widely-reported efforts to find a taker for Zaitsev before the March 3rd trade deadline.
The Senators have dealt Zaitsev, a 2023 second-round pick, and a 2026 fourth-rounder to Chicago for future considerations, effectively paying the Blackhawks two draft choices to take on Zaitsev's $4.5MM AAV contract, one that runs through the end of next season. Of note is the fact that the Senators will save nearly $6MM in real cash through this deal.
Senators general manager Pierre Dorion issued the following statement regarding the trade:
We're pleased to afford Nikita a fresh start. He's a pro's pro who showcased himself to be a caring teammate and quiet leader throughout his Sens tenure. We're thankful for his time in Ottawa and wish he and his family the best in his next chapter.
Twelve days ago, we covered how the Senators were reportedly "actively trying to move" Zaitsev and his hefty cap hit. It's a deal that should not come as a surprise, as the Blackhawks don't have any plans to compete for the next few seasons, so they get to add to their stockpile of draft picks by taking on a cap hit that is of little consequence to their overall plans.
While $4.5MM for this season and next is no small number in today's flat-cap environment, the prize of this deal for the Blackhawks is Ottawa's second-rounder this season, which could very well be a pick in the first half of the second round. The quality of this summer's draft is widely considered to be deeper than in past years, so the Blackhawks are adding a pick that they likely believe can possibly land them an impact player down the line.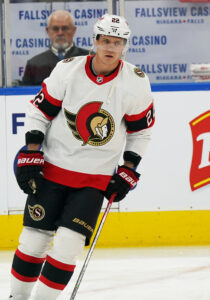 This season, Zaitsev has played in just 28 NHL games, averaging the fewest minutes per game of any season in his NHL career.
The 31-year-old cleared waivers earlier this year, and will now join Petr Mrazek and Jason Dickinson, two other cap-related castoffs on Chicago's roster.
It's unclear what Chicago's plans for Zaitsev are at this current moment, as the right side of their defense seems set with Seth Jones, Connor Murphy, and Caleb Jones.
Perhaps they'll move the younger Jones brother, a left-shot, back to the left side and move Isaak Phillips back to the AHL, placing Zaitsev on their bottom pairing.
Of note is a report from NBC Sports Chicago's Charlie Roumeliotis, who says that it "sounds like there might be some immigration hurdles" when it comes to getting Zaitsev in the fold in Chicago, although the team does plan for him to join them soon. We saw immigration issues hold back Artturi Lehkonen's debut with the Colorado Avalanche last year, so this will be a situation to monitor moving forward.
For Ottawa, this deal is about ending what turned out to be a pricey mistake from a few years ago. The Senators acquired Zaitsev, contract and all, from the Toronto Maple Leafs in 2019 in a move that would be a major help to their division rival's ability to navigate a tight salary cap situation. Zaitsev's tenure in Ottawa was disappointing, as although he averaged over 22 minutes a night in his first two seasons, his play was often inconsistent and he eventually saw his role and importance in coach D.J. Smith's defensive plans decline.
While it comes at the cost of a valuable draft pick, the Senators now have quite a bit more cap space to work with before this trade deadline. Per PuckPedia, they can fit $18MM in annual cap hits at this moment, and nearly $22MM at the deadline. Ottawa has long been rumored to be scouring the trade market in search of defensive help, so it's possible that this trade was made with the hope of using Zaitsev's vacated cap space to accommodate a pricey blueline reinforcement.
In any case, while it's not an ideal trade for any team to have to make, it's a reasonable cost for the Senators in this current cap environment. It'll hurt to lose the draft picks, absolutely, but this is a team that has disappointed this season and is eager to finally emerge from their rebuild and make the playoffs. With that as the team's overarching goal, it makes sense that Dorion would view clearing $4.5MM off his books for this season and next to be more valuable than a second-round pick this year and a fourth-rounder for the 2026 draft.
While many scramble to pick winners and losers for any trade made in the NHL today, this looks like the kind of deal where both teams can come out on top. The Senators clear valuable cap space to acquire more useful players, while the Blackhawks add a valuable draft pick to assist them in their rebuilding process. It's a natural fit for each team and a deal that will likely leave both teams' fanbases satisfied.
The trade was first reported by Daily Faceoff's Frank Seravalli. His destination, Chicago, was first reported by Sportsnet's Elliotte Friedman. PostMedia's Bruce Garrioch was first on the details of the trade. 
Pictures courtesy of USA Today Sports Images