The Edmonton Oilers have announced that veteran forward Brandon Sutter has been released from the PTO he signed with the club, and has decided to retire from professional hockey. He provided a statement, which reads:
I'm grateful for the opportunity that Ken, Jay and the Oilers organization have provided to me the past few weeks. You need to be 100 percent healthy to compete in the NHL, and although my health continues to improve, in consideration of my health and family, I am officially retiring from hockey.

Thank you to the Oilers, Canucks, Penguins and Hurricanes, as well as all my past coaches, trainers and teammates for the incredible experiences throughout my 13 seasons in the NHL.
Sutter, 34, had not played since 2020-21, but was hopeful that he could earn a depth role in Edmonton. But the time away from the game appears to have been to big a barrier to overcome, so as a result, he has elected retirement.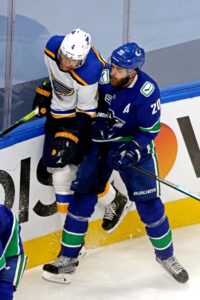 Although injuries dulled his effectiveness in the later years of his career, Sutter had long been valued as a two-way center who brought defensive ability, sneaky goal-scoring touch, and the kind of leadership qualities that make a lasting impact on a locker room.
During his time with the Vancouver Canucks, Pittsburgh Penguins, and Carolina Hurricanes, Sutter made a few deep playoff runs and scored 15 or more goals three times.
Part of the famed Sutter family, he ends his career with a few honors, including wearing a letter as part of the leadership group for three different franchises and a IIHF World Junior Championship gold medal.
While it certainly will end up a disappointment to Sutter and Oilers fans that he won't be able to suit up for more NHL games, one can certainly respect the health considerations that went into Sutter's decision. He leaves behind a playing career to be proud of, and we at PHR would like to extend our best wishes to Sutter for whatever he chooses to do now that his days on an NHL roster have ended.
Photos courtesy of USA Today Sports Images