With the holiday season having come and gone, PHR continues its look at what teams are thankful for as the season heads towards the midway mark. There also might be a few things your team would like down the road. Let's take a look at what's gone well in the early going and what could improve in the second half for the Washington Capitals.  Click here for the other articles in this series. 
What are the Capitals most thankful for?
No significant Stanley Cup letdown.  It's not uncommon for teams that just won the championship to start slow out of the gates and given that this was Washington's first title, it wouldn't have come as much of a surprise if this happened to them as well.  Instead, they're one of the top scoring teams in the league, have been near the top of the Metropolitan Division pretty much all season long, and are entering the second half of the campaign in a better spot than some recent champions have in past years.  Doing so with a new coach makes it a little more impressive as well.
Who are the Capitals most thankful for?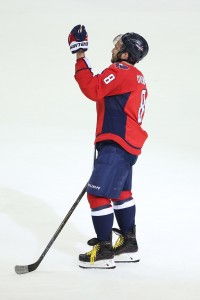 Alex Ovechkin.  The captain just continues to keep on scoring – he leads the league in that department and has a chance at his second career 60-goal season.  He has won just about every NHL award there is to be won and even at the age of 33, he's not slowing down.  In fact, if Ovechkin can stay healthy and keep up his current pace for a few more seasons, he'll have an outside shot at surpassing Wayne Gretzky for the all-time record (he currently sits 257 shy of the mark of 894).  He has been the face of the franchise for more than a decade and even though his contract (13 years, $124MM) seemed somewhat outlandish at the time it was signed back in 2008, he has more than lived up to it.
What would the Capitals be even more thankful for?
Some more consistency from goalie Braden Holtby would go a long way.  The veteran has allowed four or more goals in 10 of 27 starts but has allowed two or fewer in 14 starts.  That's pretty close to a toss-up between a strong start and a bad one from night to night and it's difficult to have success when a number one netminder is that erratic.  They're quite pleased with how Pheonix Copley has fared in his first season as the backup which has allowed them to have some patience with Holtby so far but they'll be looking for him to pick up his game in the second half.
What should be on the Capitals' Holiday Wish List?
GM Brian MacLellan could want a whole lot of things but with mere thousands of dollars in cap space, there isn't a whole lot he can do.  First and foremost, freeing up some cap room is going to be atop their wish list.  Winger Andre Burakovsky ($3MM) has been in trade speculation in recent weeks and if his play doesn't improve in recent weeks, it's certainly possible that he could be dealt to give themselves a bit of wiggle room.  Another top-six forward to give the second line some more firepower would be a nice addition if they can find a way to afford it.
Photo courtesy of USA Today Sports Images.