After Chris Tierney re-signed with the San Jose Sharks, the only arbitration hearing on the books for Friday July 20th is now Jacob Trouba of the Winnipeg Jets. Elliotte Friedman of Sportsnet reports that the two sides have submitted quite different salary figures, with the Jets filing for $4MM and Trouba's camp asking for $7MM. If an agreement isn't reached before the hearing, the two sides will actually have a bit more time before the arbitrator rewards a contract. Several players in the past have settled after the hearing, but before a decision was reached. Unlike MLB arbitration, an awarded salary does not need to be one figure or the other and can land somewhere in the middle.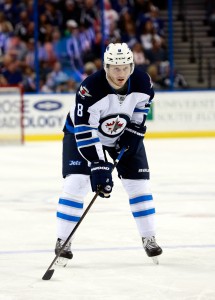 The discrepancy between the two figures is large, but also not unexpected for a player of Trouba's skill. The 24-year old defenseman already has five NHL seasons under his belt, including a shortened 2016-17 due to a holdout that lasted into November of that year. The two sides couldn't come to an agreement on his contract at that point, and Trouba had reportedly asked for a trade given his role on the team. Winnipeg already has two excellent right-handed defensemen in Dustin Byfuglien and Tyler Myers, and Trouba felt as though he could handle a bigger role even as a young player.
He got his wish that season as Myers dealt with injury and Trouba would end up logging nearly 25 minutes a night playing in all situations. That number dropped back down in 2017-18, but it's not like Trouba isn't utilized. He still averaged the second-most minutes on the team behind Byfuglien and scored at a good pace while healthy. That health was a concern though, as the young defenseman only suited up for 55 games and has now failed to play all 82 in any of his five seasons. In fact, he's averaging just 65 games per season thanks to previous injuries and his contract issues, which certainly won't help his arbitration case.
Still, Trouba is obviously an extremely talented player and deserves to be paid well. If an arbitration settlement is need he'll likely come in somewhere between the two figures, but it will almost certainly be a one-year contract. Because Trouba filed for player-elected arbitration, the Jets get to make the decision on whether the awarded contract will be for one or two seasons. If they pick two, it would carry him to unrestricted free agency in 2020 and allow him to test the market. A one-year deal would give them another chance to sign him to a long-term deal and buy out some of those UFA seasons.
Photo courtesy of USA Today Sports Images