3:34 p.m.: Both contracts carry a full no-movement clause from 2024-25 through 2026-27 and a modified no-trade clause for the rest of the deal, per PuckPedia.
2:27 p.m.: The Winnipeg Jets have signed center Mark Scheifele and netminder Connor Hellebuyck to matching seven-year extensions carrying an $8.5MM cap hit, according to a team announcement Monday. PuckPedia has the full breakdown of both contracts:
2024-25: $5MM salary, $5MM signing bonus
2025-26: $10MM salary
2026-27: $7.5MM salary
2027-28: $10MM salary
2028-29: $9MM salary
2029-30: $7MM salary
2030-31: $6MM salary
This is absolutely massive news for the Jets franchise on the eve of the 2023-24 NHL season. Not only have they retained their number-one center and star netminder for the remainder of the decade, but they've taken two of the top pending free agents off the market next summer.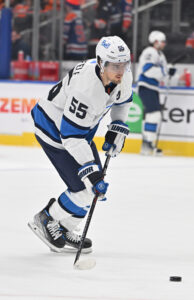 Scheifele, 30, was entering the final season of an eight-year deal carrying a $6.125MM cap hit. Hellebuyck, also 30, was nearing the end of a similar deal earning him $6.167MM per season. It's a raise of around $2.4MM per season for both as they remain Jets throughout (and past) their primes. Both players will be 38 when their deals expire, meaning these are potentially the last contracts they'll sign in the NHL. Per CapFriendly, Winnipeg now has around $18MM in cap space for the 2024-25 campaign assuming an Upper Limit of $87.5MM with five to eight roster spots to fill. With no other big negotiations to worry about (other than young forward Cole Perfetti), it's a reasonable financial picture for general manager Kevin Cheveldayoff as he enters his 12th year on the job.
Scheifele is as core as core gets for a franchise. He was the team's first draft pick after relocating from Atlanta, selected 7th overall in the 2011 NHL Draft, and he's the team's leader in goals since their relocation. The 6-foot-3, 207-pound pivot has notched 272 goals, 373 assists and 645 points in 723 career games as a Jet across 12 seasons – a number that will increase to a spectacular 21 should he finish out this contract in Manitoba. His value has never been higher, either – he just eclipsed the 40-goal mark for the first time in his career and logged over 20 minutes per game for the seventh straight season in 2022-23.
He is quite the opposite of a defensive specialist, however, and his liabilities without the puck will likely lead to debate over whether he's worth the money on this extension. Still, he's notched at least a point per game in six out of the last seven seasons and more than deserves a shot to help lead the Jets to their first championship in franchise history. By sinking significant resources into their core until their late 30s, Cheveldayoff is sending a clear message that Cup contention remains the goal entering 2023-24.
There will surely be concerns about the value of these massive contracts as they age. However, if the cap continues to increase in five percent intervals as initially laid out by the league, the Upper Limit could be as high as $117.25MM in 2030-31. In that case, Scheifele's and Hellebuyck's contracts would amount to roughly 14.5% of the cap, softening the blow of their potential declines in value.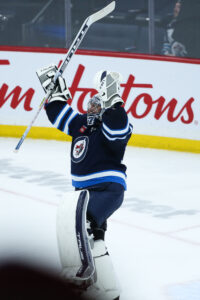 Hellebucyk is also a career Jet, selected 130th overall a year after Scheifele during the 2012 NHL Draft. He made his big-league debut at age 22 during the 2015-16 season, and he claimed his role as the team's undisputed starter a season later when he posted a 26-19-4 record and a .907 save percentage in 53 starts in 2016-17.
2017-18 saw Winnipeg win their first playoff series in franchise history, advancing all the way to the Western Conference Final. Hellebuyck's breakout that season as a truly elite netminder was the driving force behind it, as he led all NHL netminders in starts (67) and wins (44) that season while recording a .924 save percentage. He's now posted a save percentage north of .920 three times in his career (including last season), and his 357 starts over the past six seasons lead all NHL goalies – as do his 10,412 saves. Hellebuyck is nothing short of a workhorse and has been incredibly consistent over the past years, an incredibly rare quality in a goaltender. He projects to remain in the NHL's upper echelon of netminders well into his 30s.
His contract comes in just a hair more expensive than New York Islanders superstar Ilya Sorokin, who signed an eight-year extension carrying an $8.25MM cap hit earlier this summer. He's two years younger than Hellebuyck, but the added eighth year on the extension means that the contract will expire after Sorokin's age-37 season. Reports earlier this summer suggested Hellebuyck was rather closed to the idea of re-signing in Winnipeg and wanted a $9MM AAV offer from teams interested in trading for him, but those offers never materialized.
Photos courtesy of USA Today Sports.