When Conor Sheary began the season he was entering the second and final year of his entry-level contract, and coming off a Stanley Cup victory and a strong playoff performance. He'd duplicated his regular season point total in the postseason with 10 points and looked like a solid depth player for a team looking to contend once again.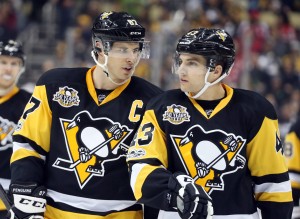 He'd spent time with Sidney Crosby in the playoffs and had great results, so the Penguins decided to try it again. What has happened this year has been magic. Sheary has blossomed into an exceptional offensive player alongside Crosby, scoring 53 points in 60 games, a rate that betters even his strong numbers at the University of Massachusetts and the AHL.
Heading into the summer, Sheary is a restricted free agent for the first time in his career and arbitration eligible. He'll be looking for a big raise after such a successful season, and the Penguins will have to decide if he's a long-term piece. Many would point to Crosby's presence and think that Sheary wouldn't have much leverage, that the diminutive winger would have trouble replicating his numbers without one of the game's premiere centers beside him. As usual, it's not that simple.
While Sheary is obviously helped a tremendous amount by Crosby's presence, it works both ways. Without delving too far into the analytics world, it's clear that Sheary has an effect on the duo's dominance. Since the beginning of 2015 without Sheary (via Corsica), Crosby has a 53 CF% a simple metric of shots attempted and allowed during a player's time on the ice. Sheary, in a small sample without Crosby, has the same number. But together the pair skyrocket up to a 56 CF%, showing how well their games mesh with each other. Crosby has found success like that with other players throughout his career, but there have also been several excellent players who just "don't mesh" with his style and can't play alongside him.
So then, when the two sides enter the negotiating room this summer it is not just the Penguins acting from a position of leverage. His presence on Crosby's wing makes their star player even better than he already was, and don't think the Sheary camp doesn't know it. Even with just a single season of success, and a checkered history when it comes to development and performance, Sheary should be able to use his chemistry with one of the league's top players and turn it into a long-term deal. After all, there is no guarantee anyone else could have the same effect.
Photo courtesy of USA Today Sports Images