Free agency is less than a month away and teams are looking ahead to when it opens.  There will be several impact players set to hit the open market in July while many teams have key restricted free agents to re-sign as well.  We continue our look around the NHL with an overview of the free agent situation for the Rangers.
Key Restricted Free Agents
F Alexis Lafrenière – Just under three years ago the Rangers watched the lottery balls bounce their way as they were fortunate enough to win the sweepstakes for Lafrenière. At the time the 21-year-old looked like a can't miss first overall pick having been dominant in the QMJHL and the World Juniors. But now just three years later the Rangers are facing quite the dilemma with the young forward. On one hand he is one of their few valuable trade chips, however, given their cap crunch his cap hit will likely give them a functional player on a reasonable contract.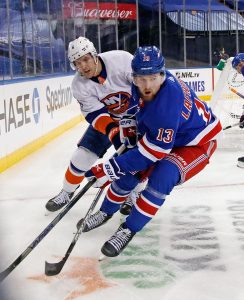 Lafrenière has played a lot of bottom six minutes and hasn't really seen the offensive opportunities that other first overall picks have had, however he also hasn't shown the same skill level or skating as some of the other first overall picks before him.
Lafrenière had a career high 39 points this season in 81 games and did a much better job driving play than he had in previous seasons. However, he also enjoyed much more favorable deployment than in previous seasons which leads one to wonder if he will have better numbers in a different role under a new head coach.
Regardless of who is signing his checks next season Lafrenière is likely to be playing under a two- or three-year bridge deal with a cap hit like the $2.1MM that teammate Kaapo Kakko is playing under.
D K'Andre Miller – Miller's next contract is going to make for a very interesting negotiation. He is the Rangers best left shot defenseman and played at a very high level for the past two seasons including this past year where he posted nine goals and 34 assists in 79 games. While 43 points total isn't elite for a defenseman, his 38 even strength points are. Miller saw very little powerplay time and still managed to post very strong offensive numbers.
While his offensive numbers are good, he and partner Jacob Trouba went through some long stretches this season where they couldn't keep the puck out of their own net. While they turned it around, Miller's defensive struggles could work against him in negotiations. It'll be interesting to see how the Rangers navigate their negotiation with the 23-year-old St. Paul native. It's unlikely they will give him the Rasmus Dahlin contract at a cap hit of $6MM, but an average annual value between $4MM and $5.5MM seems very possible.
Key Unrestricted Free Agents
F Patrick Kane – The Rangers acquired the three-time Stanley Cup champion at the trade deadline this past winter and while things didn't end up the way they'd hoped, they didn't give up a lot of assets to acquire the player. Kane recently had surgery to resurface his hip and will be ready to play in 4-6 months. He makes for a curious free agent because any team that fancies themselves a contender likely won't give out a big cap number until they can see skate again after his recovery. If this is the case, Kane could wait until after his recovery to see who the contenders are next season before inking a deal. The issue there for Kane would be that most teams will be close to the cap ceiling by the time the seasons starts. Kane is still a very productive forward (when healthy), this past season he put up 21 goals and 36 assists in 73 games during the regular season and followed it up with a goal and five assists in seven playoff games. If he were healthy Kane would probably be looking at a three-year deal worth around $6MM. But, because of his injury I think he will need to wait and sign a one-year deal closer to the start of the season or in season once he has recovers from his injury.
F Vladimir Tarasenko – Tarasenko arrived from St. Louis to a lot of fanfare in New York but couldn't help the Rangers get over hump in the Eastern Conference. The 31-year-old put up 18 goals and 32 assists in 69 games split between the Blues and the Rangers and struggled in the playoffs putting up just four points in seven games. The Rangers would probably like to sign Tarasenko to a short-term deal but given their lack of cap space they likely can't pursue the winger. Tarasenko will be interesting negotiation as he struggled to drive play last season and isn't the player he once was. He'll still find work, and a good little pay day, but it won't be at anything close to the $7.5MM he made on his previous deal.
G Jaroslav Halák – It's hard to believe that Jaro Halák is still chugging along at the tail end of his NHL career. He has struggled in recent years, but the veteran continues to find work in the NHL on one-year contracts. Halak hasn't posted a .905 save percentage in any of the past three seasons but has been able to stay slightly above average in expected save percentage. Currently Halák is a good backup option for a team that is looking for average goaltending 20-25 nights of the year. He will likely be able to fetch a one-year contract at around $1MM.
Other UFAs: Niko Mikkola, Tyler Motte
Projected Cap Space
The Rangers emerged from a quick rebuild just a few seasons ago and had plenty of draft capital and a lot of salary cap flexibility. Now just a few years later the Rangers are in a very precarious salary cap situation as they have just $11.8MM in cap space with 14 players signed for next year. While that is a bit alarming, the good news for New York fans is that most of the core is signed for at least the next two years to fairly reasonable contracts. That being said, there are a few deals that general manager Chris Drury would probably like the opportunity to dump should an opening arise.
The club likely won't have room to extend Kane or Tarasenko without moving out a very good player and given the age of both players they may want to pass on doing so. The Rangers are also two years out from having to give superstar netminder Igor Shesterkin a new deal, one which could potentially eclipse $9MM annually if he can duplicate his 2021-22 season in the next two seasons. With all of that going on, it's unlikely that there will be big changes this summer on Broadway.
Photos courtesy of USA Today Sports Images.  Contract information courtesy of CapFriendly.