Free agency is now just under a month away and many teams are already looking ahead to when it opens up.  There will be several prominent players set to hit the open market in late July while many teams have key restricted free agents to re-sign as well. The Senators have some juicy extensions lined up this offseason with a couple of important restricted free agents to sign to deals.
Key Restricted Free Agents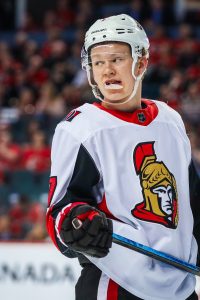 F Brady Tkachuk – Three seasons into his NHL career, the younger Tkachuk has found his way into the hearts of Sens fans with his gritty, power-forward-esque style of play. He's been on pace for at least 20 goals and 40 points in every full season, establishing a remarkable amount of consistency throughout his young career. Don't let his not-necessarily elite point production fool you, though. Tkachuk's finishing ability leaves a lot to be desired, but that only means that his offensive chance generation is more than his point totals would suggest. Considering Tkachuk's impact on the rebuilding team in such a short amount of time, it makes sense that Ottawa will want to extend him long-term. That'll likely happen, as Tkachuk's a player who'll likely be affordable over the course of a long-term extension.
F Drake Batherson – A former fourth-round pick of the Sens, Batherson was a huge breakout star this season in Ottawa. 17 goals and 34 points in 56 games as a 22-year-old with not too much help stands out as someone who has quite a bit of potential. Playing legitimate top-six minutes against tougher competition, Batherson was also a great power-play threat. He looked like one of the players who fit in the most on this Ottawa team, and he's likely to be around for a very long time. However, with only one true season showing what he can do under his belt, a cheap bridge deal is the likely outcome for Batherson. He still has multiple seasons left of RFA eligibility, so Ottawa should easily be able to lock him down long-term once his next deal is complete.
Other RFAs: F Michael Amadio, F Logan Brown, F Vitaly Abramov, F J.C. Beaudin, F Jack Kopacka, F Jonathan Davidsson, F Zachary Magwood, D Victor Mete, D Brandon Fortunato, D Olle Alsing, G Marcus Hogberg, G Filip Gustavsson
Key Unrestricted Free Agents
F Ryan Dzingel – After being in and out of the Senators organization, Dzingel had his worst season as an NHLer in 2020-21. His 13 points in 40 games between Ottawa and Carolina this season were a far cry from the potential he showed with his 26-goal, 56-point season in 2018-19. Dzingel saw a heavy reduction in minutes this season as well, playing just 12:42 a night. Dzingel likely has huge bounce-back potential if given more opportunity, but he shouldn't and won't get that with Ottawa. Now 29, a Dzingel re-signing would make little sense for Ottawa given the youth movement they've built up, with its success showing this season. Dzingel could find success elsewhere, but Ottawa shouldn't beat themselves up too much if they let him go.
F Artem Anisimov – Brought in via trade to be an experienced veteran at their paper-thin center position, Anisimov's done his job as a Senator. He's actually produced at a fairly decent pace, especially considering his age and declining health. His 29 points over 68 games are definitely acceptable, especially for a player who was largely utilized in a fourth-line role. He showed he still had more left in the tank with 15 goals in 2019-20, but struggled more on the scoresheet this year. Anisimov likely has a bit more NHL hockey left in him, but he could also return home to Russia to finish out his career with a potential chance at a Gagarin Cup in the KHL.
Other UFAs: F Derek Stepan, F Micheal Haley, F Matthew Peca, D Cody Goloubef
Projected Cap Space
The Senators, predictably, have a large amount of cap space entering the offseason. Even with $28.5MM in room and a small list of players to re-sign, the Senators will likely stay true to their youth movement and corresponding rebuild this offseason. It's unlikely that the team will be huge players on the free-agent market, but could still potentially use that cap space to acquire some assets by relieving cap-strapped teams of hefty contracts.
Photo courtesy of USA Today Sports Images. Contract information courtesy of CapFriendly.