It's day one of the on-ice portions of training camp around the league and at the St. Louis Blues skate, there is a participant not many expected just a few months ago. Vladimir Tarasenko was lining up alongside the recently-signed Robert Thomas and newcomer Brandon Saad in the team's second group after months of speculation regarding a trade request. The veteran winger wasn't dealt and has deemed himself fully healthy after suiting up for just 34 total games over the last two seasons.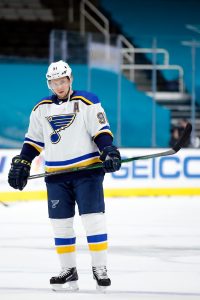 Speaking to reporters including Lou Korac of NHL.com, Tarasenko made it clear that he's completely committed to the Blues as long as he's a part of the team:
Everything is good. My mindset is good. It's good to be with the guys. I have good relationships with the guys. It's been a weird summer, but it's going to stay between us (and) between me and Doug. I'm here to work. As long as I'm here, I will work for 100 percent.
In the past, the NHL has seen a few players give less than full effort as they try to navigate a trade request, but it appears as though the 29-year-old won't fall into that category. He's keeping the details of his trade request private for now and going about his business as if it never happened.
Still, it did happen, and there will be speculation around Tarasenko's future all season. The Blues managed to get everyone signed this summer without going too far over the cap and should be able to open the season under the $81.5MM upper limit even with Tarasenko's $7.5MM on the books. If he is healthy, something that certainly hasn't been proven to this point, he could once again give the Blues an elite goal-scoring option to go along with the rest of their deep forward group. Tarasenko scored at least 33 goals in five consecutive seasons before multiple shoulder surgeries kept him off the ice more than on it.
Remember, Tarasenko still holds many of the cards when it comes to a trade. He has two years remaining on his contract and holds a full no-trade clause, meaning he dictates which teams are possible destinations. The fact that he's earning $9.5MM in actual salary this season certainly would be a deterrent for some clubs that are still dealing with financial ramifications from the last year, but when that number drops to $5.5MM in 2022-23, it certainly will become a lot more palatable. Even if there is a trade in the future, it appears as though Tarasenko is present, healthy, and ready to help the Blues for the time being.
Photo courtesy of USA Today Sports Images