The three-way trade between the Avalanche, Predators, and Senators made headlines across the league and was a popular topic in this edition of the mailbag, which also features questions about Vegas, St. Louis, and Arizona.
ducksfan: If the Knights make the playoffs what moves do they make at the deadline if any to make sure they don't hurt their future?
I have to admit, I didn't expect the Golden Knights to even be in the race at this point, especially with the calamity between the pipes.  If they can hold on to a playoff spot by the trade deadline, it's really going to change the expected trade landscape as all of a sudden, there will be strong cases for GM George McPhee to hold on to at least some of their prominent rental players.  That said, I wouldn't be shocked if they still did at least a bit of selling and take the long-term view.  At the very least, they should still be able to sell off some of their defensive depth for some late-round picks or prospects as teams look to shore up their depth chart in case of injury regardless of where they are in the standings.
Assuming they don't want to move their primary rentals, they have some opportunities to improve their roster without leveraging their future.  They're projected to have the ability to add more than $35MM in full-season cap hits at the deadline per CapFriendly which gives them the chance to take a cap dump or two while upgrading their roster at the same time.  It also allows them to retain salary to make a deal which would help facilitate a Jason Garrison trade.  I could also see them parting with a player like Brendan Leipsic or Tomas Nosek who are still somewhat young but aren't likely key cogs over the long haul.  They could maybe dangle one of those for a rental piece to help in their playoff push as well.  It isn't crazy to think that they could buy and sell to still give themselves some assets for the future while staying in the hunt.
@Raysworld63: How much better is the Predators with Turris? With Bonino back and Ellis returning soon will they make playoffs? #PHRMailbag
Kyle Turris really strengthens Nashville's depth down the middle while pushing Nick Bonino into a third line spot which is where he's at his best in more of an exploitative role like he was back in Pittsburgh.  That's a great spot to be in, especially with Ryan Johansen as their top center (he's not going to struggle like this all season).
Teams with high-quality center depth and great defense are often contenders for strong postseason pushes.  The Preds find themselves in a playoff spot already without having Ryan Ellis all year, with Johansen struggling to score, and without Turris for all but a few games.  They're a pretty safe bet to get to the postseason barring a slew of Anaheim-like injuries.
Connorsoxfan: Who won the Duchene/Turris mega deal?
I really like the deal for Nashville.  I touched on them a bit with the last question so I won't add too much here.  They added a legitimate top-six center on a good contract and while Samuel Girard is going to be a good player, their defensive depth made it so that they could move him.  With that group down the middle, they're in good shape for a long time.
I also think Colorado made out quite well.  While quantity doesn't always equal quality, GM Joe Sakic got a good mix of intriguing prospects (Girard already looks like a great fit) and draft picks.  It's not as if they had any hopes of possibly re-signing Matt Duchene so it made sense to get whatever they could and they sure got a lot.  Not all of the players and picks will pan out but they should land two or three solid pieces at a minimum out of that package and that's pretty good for a disgruntled player who had been underachieving in recent years.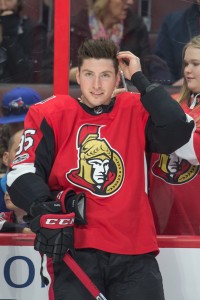 I'm not as bullish about the trade for Ottawa.  They get an extra year of team control with Duchene being signed longer than Turris and it doesn't sound like Turris signing an extension with the Sens was likely to happen.  However, to give up a player that has similar value, a first-round pick, a player just taken with a first rounder, and a third rounder for that extra year of control seems too steep to me.  Clearly, they're banking on Duchene having a resurgence now since he'll be happier in a new environment and that they'll have a legitimate shot at keeping him when his contract is up.  If those two things happen, Ottawa will come out better in the trade in the end but we're still a long way from finding out if either will occur.
cardzcrazy: Will Armstrong make a trade to shore up the Blues 3rd line or call someone up? Berglund will help but Kane would be a great fit on the 2nd line and push Sobotka to the 3rd line.
It sounds like Patrik Berglund is getting pretty close to returning and after a career season in 2016-17, they'll probably slide him into the 3C role and see if he can pick up where he left off.  If he gets going early, it wouldn't be surprising if he and Vladimir Sobotka eventually flipped places in an effort to give that top-six another scoring option.
Cap space isn't something St. Louis has much in the way of right now and once Berglund comes off long-term injury reserve, they won't have much room on that end either, just the salaries of Robby Fabbri and Zach Sanford (with the latter expected to return at some point as well).  As a result, they're not going to have the money to really make a trade at this time unless they're sending a similarly-priced player out.  Adding another top-six option will certainly be something that they will want to do but it may have to come closer to the trade deadline where other teams may be more willing to retain salary to facilitate a deal.
Mark Black: What impact does John Chayka's GM tenure have on teams looking to take a non-traditional approach in the future? And what is one take back move he'd love to have?
It certainly hasn't been pretty in Arizona lately, especially with their dreadful start to this season.  That said, I don't think their results under Chayka would have much of an impact around the league at this point.
There's a major qualifier when it comes to any small-market team and that's the budget.  Arizona typically has a spending budget right at the minimum salary.  It's hard to win with that no matter who is running the show.  Take their roster and add two or three impact veterans to it and the outlook on their season probably is a lot different already.  There is a solid core of young players on the Coyotes and Chayka has done some nice moves to leverage their payroll room into getting some other assets.
There has been a rapid shift in analytics in recent years and it's safe to say that it's here to stay.  Even if Arizona's struggles continue for a few years now and Chayka gets let go, there are going to be other teams that will want to try to defy conventional wisdom and go this route.  They'll claim that their analytics department and proprietary numbers/algorithms will be better and more advanced at that time than Arizona's is now and considering how far this side of the game has come lately, it will probably be true.
As for which trade he'd like to take back, I'd have to think last summer's deal with the Rangers for Derek Stepan (and Antti Raanta) for the seventh-overall pick (plus Anthony DeAngelo) would be the one.  That's the type of trade a team makes when they're ready to take that big step forward and move towards contention.  Clearly, their young core isn't far enough along in their development as Chayka believed as they're just not ready to really push for a playoff spot yet let alone be a contender.  That was a trade that was done a year or two too early.
Photo courtesy of USA Today Sports Images.