Free agency is now just a little more than a month away and many teams are already looking ahead to when it opens up.  There will be several prominent players set to hit the open market in late July while many teams have key restricted free agents to re-sign as well. Columbus doesn't have a lot of huge names to lock up, but it's still an important offseason for the franchise.
Key Restricted Free Agents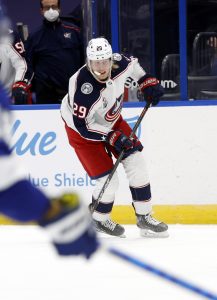 F Patrik Laine – It was an incredibly challenging year for the Finnish winger. After being dealt to Columbus by the Winnipeg Jets in exchange for center Pierre-Luc Dubois, Laine proceeded to put up the worst season of his career playing for the Blue Jackets. Struggling under the now-departed John Tortorella's system, Laine put up just 21 points in 45 games with Columbus and only 10 goals. It's a sharp decline after his 63-point campaign in 2019-20. While it's expected that Laine should bounce back under different coaching next season, it's tough to bank on that when assessing giving out a long-term contract. Due to his struggles this year, and the potential that Laine may not want to stay in Ohio, a bridge deal is likely in order. It'll likely take him right up until his first season of unrestricted free agent eligibility, and the Blue Jackets will hope to return to being a contender by that point.
F Alexandre Texier – Drafted 45th overall by Columbus in 2017, Texier is slowly but surely making the transition to full-time NHLer. While Texier's offensive pace dropped slightly this year with just four goals in 49 games, his ice time spiked to almost 16:00 per game this year. He'll likely see more chances in a top-six role this coming season as Columbus turns to a youth movement. Regardless, it should be a cheap contract extension for Texier, likely under $3MM per season on a show-me deal. The French-born forward has shown some serious flashes of promise in the big leagues, and he's looked at as a big future piece in Columbus' middle-six forward group.
Other RFAs: F Kole Sherwood, F Cliff Pu, F Calvin Thurkauf, D Andrew Peeke, G Cam Johnson
Key Unrestricted Free Agents
D Michael Del Zotto – Del Zotto was a nice surprise on the back end for Columbus this season. The 31-year-old defender has bounced in and out of the lineup in recent years due to injury and poor play, but found a stable home with Columbus this season. He started out the season well in a third-pairing role, but moved up the lineup as injuries struck Columbus' top defenders, especially Zach Werenski. Del Zotto wasn't a dynamo offensively with just 13 points in 53 contests, but rediscovered his transitional game this season, having arguably his most defensively sound performance since his days with the New York Rangers. With his age and injury history, it's still unlikely Del Zotto signs anything more than a one-year deal with any team. He'd certainly fit in well again in Columbus next season, as there's no clear heir-apparent to his spot. With them potentially losing a defender like Dean Kukan to Seattle, re-signing Del Zotto could prove important for the Blue Jackets. Even if not, Del Zotto played well enough this season by most accounts to earn an NHL job again in 2021-22.
D Mikko Lehtonen – Coming over from the KHL with high expectations, Lehtonen mostly fell off the map this season. Signing with the Toronto Maple Leafs before the season's start, Lehtonen failed to work his way into a regular spot. In an effort to get Lehtonen some more NHL opportunity, Toronto dealt him to Columbus midway through the season. But even with the Blue Jackets, Lehtonen couldn't work his way out of a bottom-pairing role. Logging around 18 minutes a night in Columbus, Lehtonen posted just three points in 17 games and got caved in defensively most nights. While he had promise coming into the season, it's likely that Lehtonen will go back to a more comfortable environment overseas.
Other UFAs: F Zac Dalpe, F Mikhail Grigorenko, F Stefan Matteau, F Ryan MacInnis, F Brandon Dubinsky, D Adam Clendening, D Gavin Bayreuther
Projected Cap Space
The Blue Jackets will have plenty of space to maneuver this offseason with around $23.8MM in cap space. With the minute list of players needing new contracts, and with Laine's and Texier's being the only real ones of value, the team will have plenty of room to add in free agency and on the trade market. Columbus' scoring issues have been well-documented over the past few seasons, and it's a foregone conclusion that something will be done this offseason to address it further. That available cap hit is also expected to increase with the impending trade of Seth Jones, meaning that Columbus may be able to outbid other teams for premium talent.
Photos courtesy of USA Today Sports Images.  Contract information courtesy of CapFriendly.