The playoffs are still raging on, with four teams desperately battling for a chance to hoist the Stanley Cup. Meanwhile, in their individual cities, general managers across the league are dealing with a ticking clock on pending unrestricted free agents, scrambling to finish last-minute expansion plans or making calls to try and find a way to improve their club. In Columbus, the Blue Jackets front office is looking at a long, important to-do list. At the top of it is solve the Seth Jones problem—to trade or not to trade?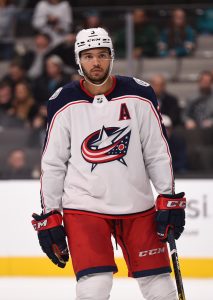 Jones, 26, has informed the Blue Jackets that he will not be re-signing with them at this point, meaning he is just over a year away from hitting the market as an unrestricted free agent. The Norris Trophy contender will command a huge price on the open market, likely becoming one of the highest-paid defensemen in the league whether he signs in Columbus or somewhere else. So the Blue Jackets must decide whether to trade him this summer, at next season's deadline, or try and convince him to somehow change his mind on returning on a long-term extension.
This week, sources told Pierre LeBrun of The Athletic that the Philadelphia Flyers are one of the teams that have shown interest in the right-handed defenseman, a fit that the scribe had suggested previously. They certainly aren't the only team calling Blue Jackets GM Jarmo Kekalainen though. LeBrun suggests that Jones' value actually could potentially increase if Columbus held onto him until the next trade deadline, but notes that the best-case scenario is likely trading him in the summer with a team that immediately extends him.
A trade this summer is exactly what Elliotte Friedman expects, as he told Sportsnet radio on Monday:
The Jones [trade] I expect to happen around the draft, I would say it's probably when we're going to look at it. Because it's going to be some picks involved. But I do think they are pretty determined to make that move. 
The Blue Jackets of course already have three first-round picks this year, meaning a trade with more draft picks involved could quickly restock the prospect cupboard. Kekalainen famously "went for it" in 2019, sending out several high picks for players like Matt Duchene and Ryan Dzingel, hoping to take advantage of the final year with Artemi Panarin and Sergei Bobrovsky. While that might suggest he'd be willing to do the same in Jones' final year, the Blue Jackets just aren't in a competitive enough position with the rest of the roster for it to really make sense.
Remember though—in this very unique offseason—that any acquiring team will also be forced to protect Jones in the expansion draft if the deal is made in the coming weeks. That could potentially delay a trade depending on who is willing to pay the highest price, but keep an eye on that two-day period between the expansion and entry drafts for several moves around the league to be officially announced.
Photo courtesy of USA Today Sports Images