Longtime NHL defenseman Michael Del Zotto announced his retirement via Instagram today, ending a 13-season NHL career.
Del Zotto, 33, was drafted by the New York Rangers with the 20th overall pick out of the OHL's Oshawa Generals in 2008. He would jump to professional hockey after one more season in juniors, recording 37 points in 80 games in 2009-10 and earning All-Rookie Team honors.
Unfortunately, while Del Zotto would turn into a serviceable NHL defenseman for over a decade, he didn't develop into the potential bonafide top-pair player he hinted he could be at the beginning of his career. He would only beat his rookie totals once in New York, recording ten goals, 31 assists and 41 points in 77 games in 2011-12 before dropping to a bottom-pairing role in the 2013-14 campaign. Then-Rangers general manager Glen Sather dealt him to the Nashville Predators for shutdown defender Kevin Klein in a one-for-one swap in January of that season.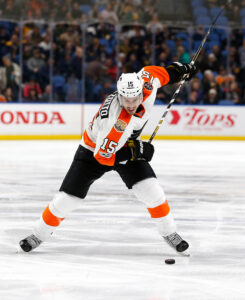 Things didn't go much better for Del Zotto in a brief stint with Nashville to close out the season, which saw his ice time continue to decrease as he recorded five points in 25 games and a -4 rating. He was due a qualifying offer of $2.9MM that season with his contract expiring, which the Predators didn't issue, and he signed a one-year, $1.3MM contract with the Philadelphia Flyers in August 2014. It turned out to be a prudent choice for Del Zotto, who, for a brief time, recaptured his former glory in Philadelphia. He notched 32 points in 64 games during his first season there while averaging nearly 22 minutes per game, but again fizzled out over the following two seasons with the Flyers.
After signing as an unrestricted free agent with the Vancouver Canucks in 2017, Del Zotto would play stints with the Anaheim Ducks, Columbus Blue Jackets, Ottawa Senators, and St. Louis Blues in depth roles until the 2021-22 season. While he didn't appear in any postseason contests, Del Zotto was on the Blues' roster for their 2019 Stanley Cup championship.
2021-22 was when it became clear Del Zotto's days of playing at the highest level were drawing to a close. Despite recording a respectable 13 points in 26 games with Ottawa and posting decent possession numbers, the Senators waived him. They assigned him to AHL Belleville, where he managed over a point per game. It was enough to land him another NHL contract for 2022-23 with the Florida Panthers, but they waived him pre-season and didn't include him on the opening night roster. He would record two goals and 10 points in 25 games with their AHL affiliate in Charlotte before they traded him back to Anaheim in the days leading up to Christmas in a three-way swap of minor-league players, including the Detroit Red Wings. Del Zotto closed the season with a strong 31 points in 40 games for AHL San Diego.
But without ever getting a callup to the NHL throughout the season despite a paper-thin defense in Anaheim, Del Zotto has opted to step away from the game. His 736 games rank 18th among players from the 2008 draft class at the time of his retirement, during which he recorded 63 goals, 199 assists, 262 points, and averaged 20:03 per game over the years. PHR congratulates Del Zotto on his lengthy career in the pros and wishes him the best in retirement.
Image courtesy of USA Today Sports.