If you look at the resume of goal scorer Thomas Vanek, he's been a man without a team for many years. After a long stint at the start of his career with the Buffalo Sabres, the winger has been on seven different teams over the last six seasons, and while he has proven to be a player that can put the puck into the net, he remains unsigned with plenty of questions on whether his career will continue.
Vanek, who has tallied 373 goals over the course of his career, was moved around so often that he would only sign with the Detroit Red Wings last season on the condition that he had a no-trade clause after being a trade-deadline victim three times over the course of his career. Regardless, he was useful in Detroit where he scored 16 goals as a middle-six option for the franchise after a 24-goal campaign in 2017-18 between Vancouver and Columbus. However, the 35-year-old continues to show he can score, but at his age, the veteran is less and less sought after.
Vanek said at the end of the season that he would need time to decide on whether to return next season for a 15th season. He played 64 games last season, dealing with both knee and finger injuries, but he might be ready to retire depending on what offers might come his way.
Potential Suitors
A return to Detroit might make quite a bit of sense as his 16 goals and 36 points was solid play for a third-line winger. However, with a number of youngsters coming up into the system, including Filip Zadina, Michael Rasmussen and Taro Hirose looking NHL ready, as well as a number of veterans who are starting to get pushed down the lineup, there may not be much playing time left to give Vanek.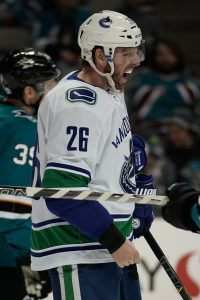 The Buffalo Sabres might also be an interesting destination as he could return to the team that drafted him and the team he played with for eight-plus seasons. However, while the Sabres might be able to use the depth that Vanek could provide on the bottom lines, the team is already capped out and would have to make a roster move to be able to bring Vanek back to the team.
Other teams like the New York Islanders and the Winnipeg Jets could potentially be other options for the veteran. Lou Lamoriello likes to have a number of veterans on his teams, while the Jets might want some veterans (likely on minimum contracts) to help fill out their depth once the team signs both Patrik Laine and Kyle Connor.
Projected Contract
Over the past three years, Vanek has played for anywhere between $2-3MM on one-year deals. If Vanek signs with a team, it almost assuredly will be a one-year deal like the three previous contracts before that. However, with many teams already near the salary cap and few interested parties at the moment, Vanek might have to be willing to accept a pay cut, perhaps even playing for the minimum if he wants to keep playing.
Photo courtesy of USA Today Sports Images.