With the trade deadline now just weeks away, we're taking a closer look at each team.  Where do they stand, what do they need to do, and what assets do they have to fill those needs?
It's been quite the purgatory for the Detroit Red Wings. Mike Ilitch, who transformed the Dead Wings into a four time Stanley Cup Champion, passed away on Friday. As if losing the owner who many current and former players considered to be a father figure wasn't enough, the Wings 25-year playoff streak may end at a quarter century. Struggling to piece wins together, Detroit has a historically bad power play, a team besieged by injury, and a horrible return on investment from several players inked to expensive, long term deals.
For the first time since the early 90's, the Red Wings are sellers. And yet, while it looks that the playoffs are slipping away, general manager Ken Holland may "stand pat" instead of selling off assets.
Record
22-24-10; 54 points. Last in the Atlantic; Last in the Eastern Conference.
Deadline Status
Seller
Deadline Cap Space
Current Cap Space: $0 ($8.3MM with LTIR relief)
Deadline Cap Space: $0 ($8.3MM with LTIR relief)
Draft Picks
2017: ( 9 Total) DET 1st, DET 2nd, DET 3rd, TOR 3rd, DET 4th, DET 5th, DET 6th, FLA 6th, DET 7th
2018: 7 Total) DET 1st, DET 2nd, DET 3rd, DET 4th, DET 5th, DET 6th, DET 7th.
Trade Chips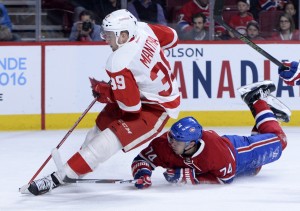 There are a number of players to choose from but topping the list is Thomas Vanek, who has been linked to the Chicago Blackhawks among other teams. Should he stay healthy (he's currently battling an ankle injury), he could fetch some prospects or a draft pick. Mike Green has been another name, though he seems less likely to be moved as the Wings are trying to upgrade on the blue line–and he has been good for them this season. Gustav Nyquist and Tomas Tatar were also mentioned, targets by the Chicago Blackhawks. Petr Mrazek, though it seems odd since he has struggled and was just signed to a deal in the offseason, could also be shopped. Finally, Brendan Smith, in the final year of a contract, could be moved as well.
Team Needs
1) #1 defenseman. Good luck. Almost every team in the NHL seeks that top pair defenseman, the Red Wings truly haven't had one since Nick Lidstrom retired. Worse, their young defensemen have regressed while the veterans are broken down versions of their once steady selves (Niklas Kronwall comes to mind). The problem in getting the top pairing defenseman they seek is two fold. First, only a young player with team control could garner the top d-man, be it Anthony Mantha, Dylan Larkin, or Andreas Athanasiou. But those are players the Red Wings aren't willing to give up. Second, the salary cap situation is a mess being that Holland has handed out expensive, long-term contracts to players like Justin Abdelkader, who hasn't scored a goal since November. To add and retain a top pair defenseman, a team needs salary cap space. The Wings are in trouble for years to come unless they can shed those contracts. Until the Red Wings fix the blue line, their slide will continue and only get worse.
2) An elite, generational player. In all of the seasons for the Red Wings to fall off, it would be the season where there isn't a clear cut one and two option. Connor McDavid, Jack Eichel, Auston Matthews and Patrik Laine were all clear cut options in the last two drafts. Now? While Nolan Patrick, Nico Hischier, and Tim Liljegren are all great options, scouts are having a hard time agreeing on a clear cut favorite. Holland could trade draft picks and players to go after former top picks, like Matt Duchene, Nathan MacKinnon or Gabriel Landeskog, but that seems pretty far fetched. Plus, Holland has been gun shy during the Cap era when it comes to trades. But this year's draft is not as certain as in previous seasons, and that doesn't bode well for a team who desperately needs a top tier talent to get back on the right track. Larkin, Mantha, and Athanasiou are great starts as building blocks, but they are at least one, if not two, generational players away from getting back to the top of the hockey world again.