With free agency now just a few days away, teams are preparing for a frenzy of action.  There will be several prominent players set to hit the open market while many teams have key restricted free agents to re-sign.  The Penguins have some key decisions to make, but with a plan to keep their cap number down and their overall goals of making changes to keep their team in the playoff picture for the next few years, they may have to let some players go.
Key Restricted Free Agents
G Matt Murray – With the signing of Tristan Jarry on Saturday to a three-year deal, the Penguins are basically making it clear that they have chosen Jarry over Murray in net. While they could conceivably keep both as it is expected that the team will tender a qualifying offer, it still is more likely that Murray will be traded shortly. That's a far fall for the "goalie of the future" three years back when they allowed Marc-Andre Fleury move on. Many teams are waiting for the huge free-agent goalie market to disseminate in the next week as Murray sounds like a cheaper option, but the 26-year-old's lack of consistency likely worries plenty of teams. Murray finished the season with a 2.87 GAA and a .899 save percentage in 38 games, although the netminder did fare better in three postseason games as he had a 2.50 GAA and a .914 save percentage in three games.
F Dominik Simon – Hardly a top-six player, but the versatile Simon suddenly looks like he could be a cap casualty as The Athletic's Rob Rossi reports that he could make as much as $1.25MM, a high price for a capped-strapped team. The 26-year-old played all over the lineup, but has never managed to post more than 30 points in his career. He tallied seven goals and 22 points last season in 64 games. The forward is also recovering from shoulder surgery in late April, which was expected to keep him out six to seven months.
Other RFAs: F Pontus Aberg, F Anthony Angello, F Graham Knott, F Sam Lafferty, F Sam Miletic, D John Nyberg.
Key Unrestricted Free Agents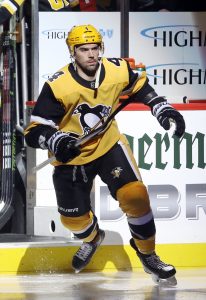 D – Justin Schultz – The blueliner was singled out last month by general manger Jim Rutherford as one of the problems on the Pittsburgh blueline. That likely means that the team will allow Schultz to explore other offers around the league. The team did get an impressive year out of John Marino, suggesting the team can get along without him and $5.5MM cap hit that came with him. It's highly unlikely he will get anything like that on the market anyway, but Schultz definitely struggled since signing that three-year, $16.5MM contract. Since posting a 51-point season with the Penguins and signing that deal, he has posted just 54 points combined in those three seasons and has dealt with a number of injuries that has affected his overall game.
F Conor Sheary – The Penguins re-acquired Sheary at the trade deadline from Buffalo after trading him there back in 2018. The 28-year-old winger scored 23 goals in his second year with the Penguins back in 2016-17. Those goals, however, have declined every year to 18 to 14 to 10 last season. The team has made it clear it doesn't want to put Sidney Crosby next to lesser players like Sheary has, meaning if they held onto him, they would more likely move him down to the third line. The question is whether Sheary is affordable enough to bring back to the team.
F Patrick Marleau – The Penguins picked up the legendary winger from the Sharks for their playoff run, but he managed to scored just one goal and two points in eight games before the shutdown and was scoreless in four playoff games. It isn't likely that the 41-year-old will return to Pittsburgh, although a return to the Sharks for one final season isn't necessarily out of the question.
Other UFAs: F Riley Barber, F Thomas Di Pauli, F Adam Johnson, F Kevin Roy, F Phil Varone.
Projected Cap Space
Rutherford vowed to change up his roster this offseason in hopes of giving Crosby and Evgeni Malkin every opportunity to win another Stanley Cup before their time in the NHL is up. That will require some major decisions in both free agency and through trades, something that Rutherford is an expert on. The biggest problem remains the salary cap where the team has just $2.6MM in available cap space to make all these moves.
Photo courtesy of USA Today Sports Images.