Swedish forward Carl Söderberg, who played in nearly 600 NHL games, has made the decision to end his playing career at the age of 37.
Söderberg's retirement announcement, made via SportExpressen's Johan Svensson, comes after the player's second season playing SHL hockey with the Malmö Redhawks and two seasons removed from his last NHL campaign.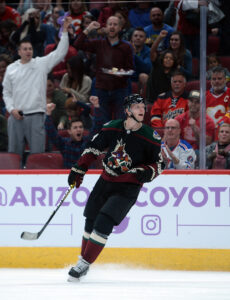 Söderberg was selected by the St. Louis Blues in the second round of the 2004 draft, 49th overall. He was seen as a toolsy six-foot-three forward who impressed at the junior level for Malmö, scoring 48 points in 27 games, and even managed to play in 24 games for Malmö's first-team squad.
Söderberg struggled the following season, scoring just five points in 38 games as Malmö were relegated to the second-tier HockeyAllsvenskan.
In the Allsvenskan is where Söderberg took the first developmental leap of his career, scoring 39 points in 39 games and leading Malmö to promotion back to the top tier of Swedish hockey. Söderberg looked poised to keep the good times rolling the following season in 2006-07, scoring 30 points in 31 games at a significantly increased competition level compared to the Allsvenskan, before he was thrown a potentially career-threatening challenge.
After an opposing player's attempted stick lift went awry, Söderberg was left with a detached retina and forced to undergo what he estimates was between eight to ten surgeries on his left eye. Söderberg missed quite a bit of time as a result and became legally blind in one eye, but ultimately returned to the ice for Malmö and became a top scorer for the club for the next four seasons, all played at the Allsvenskan level.
Söderberg would then move on from Malmö and spend two years with IK Oskarshamn in Sweden's top league, finishing the 2012-13 season leading the league in goals with 31 to go alongside 60 total points. At that point he was 27 and decided he would try his luck in the NHL, signing a deal with the Boston Bruins. Although Söderberg's career technically began poorly, as the Bruins suffered a heartbreaking loss in the 2013 Stanley Cup Final, Söderberg himself would go on to provide a major return on investment for the Bruins.
He scored 16 goals and 48 points in his rookie 2013-14 season and followed that up with 44 points as a sophomore. That earned Söderberg a hefty five-year, $4.75MM AAV contract with the Colorado Avalanche, where he would immediately set a career-high of 51 points and in 2018-19 hit the 20-goal plateau for the first time in his career.
In 2019 Söderberg was dealt to the Arizona Coyotes for what would be the final productive season of his career. After a 2020-21 season spent largely in depth roles for the Chicago Blackhawks and Avalanche, Söderberg returned to where it all started, to the SHL and Malmö. He would lead the team in scoring in 2021-22 and although his numbers declined this past season his 14 goals and 26 points played a crucial role in the club avoiding relegation and maintaining its spot in the SHL.
Although the Avalanche would go on to finally win the Stanley Cup championship they'd been building towards in 2021-22, Söderberg's first away from the NHL, the leadership and the guidance Söderberg provided for younger players during the early days of the careers of players such as Mikko Rantanen and Nathan MacKinnon means his contributions to the team's eventual championship are undoubtable.
Beyond club hockey, Söderberg represented Sweden at the 2016 World Cup of Hockey and 2017 IIHF Men's World Championships, winning a gold medal at the latter event. He finishes his career with quite a bit to be proud of, especially considering the major adversity he faced early in his career.
Photos courtesy of USA Today Sports Images.