While many teams will be using these next few weeks to try to reach new deals for their pending unrestricted free agents, that won't be the case for the Predators and forward Mikael Granlund.  Instead, his agent Todd Diamond told Adam Vingan of The Athletic (subscription required) that they intend to test the open market when it opens up next month.  Diamond wouldn't rule out a return to Nashville but they will see what other options are out there first.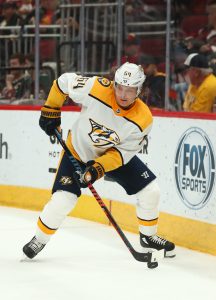 Granlund's time with the Preds has been littered with its ups and downs.  Acquired at the 2019 trade deadline for Kevin Fiala, the 28-year-old had just a single goal in 16 regular season games down the stretch with his new team and only had a goal and an assist in their first-round exit at the hands of Dallas.  Things didn't get off to a great start this season either.
However, once John Hynes took over from Peter Laviolette as head coach, things started to turn around for Granlund.  He led the team with 11 goals in 27 games under Hynes while his ice time jumped to over 19 minutes per game as well, numbers that Diamond will surely be emphasizing to potential suitors.  His usage was similar in their Qualifying Round series against Arizona as well as he logged 18:43 per game although he only managed a single assist in four games.
Granlund is one of the more intriguing names in what is a fairly soft market for forwards.  He's only two years removed from back-to-back 20-plus goal/65-plus point seasons and at his age, it's quite possible that he could get back to those numbers in the right environment.  He also has experience at center although he has largely played on the wing in recent years; that versatility will also be attractive.
Having said that, two quieter years offensively undoubtedly won't help his leverage, especially if he's seeking a long-term contract.  While he will be one of the top forwards on the market, the flattened salary cap will reduce how many teams are willing to pay big money for a long-term deal at a rate close to the $5.75MM he made on his most recent contract.  As a result, he's one that might be better off looking for a short-term pact in a better offensive environment that would give him a chance to restore some value before hitting the market again where there is more certainty surrounding the economics.  Either way, he'll be hearing what his options are no matter what with an early contract with Nashville now being ruled out.
Photo courtesy of USA Today Sports Images.