With the NHL season now underway, we continue our look at what each team has done this summer and what to watch for in the year to come.  Today, we focus on the Chicago Blackhawks.
Last Season: 50-23-9 record (109 points), first in Central Division (lost in the first round to Nashville)
Remaining Cap Space: $0 in regular space per CapFriendly, $2.44MM with LTIR
Key Additions: F Lance Bouma (free agency, Calgary), G Anton Forsberg (trade, Columbus), D Cody Franson (free agency, Buffalo), D Connor Murphy (trade, Arizona), D Jordan Oesterle (free agency, Edmonton), D Jan Rutta (Piráti Chomutov, Czech Extraliga), F Brandon Saad (trade, Columbus), F Patrick Sharp (free agency, Dallas), F Tommy Wingels (free agency, Ottawa)
Key Departures: D Brian Campbell (retirement), G Scott Darling (trade, Carolina), F Andrew Desjardins (free agency, unsigned), D Niklas Hjalmarsson (trade, Arizona), F Marcus Kruger (trade, Vegas – later dealt to Carolina), D Johnny Oduya (free agency, Ottawa), F Artemi Panarin (trade, Columbus), F Dennis Rasmussen (free agency, Anaheim), D Trevor van Riemsdyk (Vegas, expansion)
[Related: Blackhawks Depth Chart From Roster Resource]
Player To Watch: F Brandon Saad – The trade that saw Saad return to the Blackhawks was among the biggest of the offseason.  While he didn't have a ton of pressure on him in his first stint with the team (one can only have so much pressure on an entry-level contract), that won't be the case now.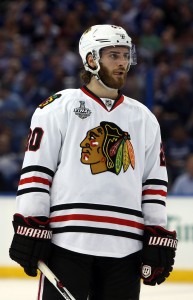 Chicago will be counting on Saad to jump onto the top line alongside Jonathan Toews and that's a role he didn't find himself in too often with Columbus.  They will also be asking him to help replace Panarin's offense which is easier said than done; Saad's career high in points is 53 (a mark he hit each of the past two years) while Panarin has reached 77 and 74 points over his two NHL seasons.
GM Stan Bowman admitted that a big part of the reason they did the trade was his familiarity with the team (although the two extra years on his contract were also important).  Can that make enough of a difference for Saad to have a career year and hold down that top line spot while at least coming close to replacing Panarin's offense?  They're certainly hoping so and expectations are quite high as a result.
Key Storyline: It wasn't all that long ago that the Blackhawks were among the deeper organizations in the league.  With the salary cap starting to flatline and more big contracts kicking in, the annual tradition of purging talent for cheaper options continued this summer.  While they have always had enough talent in the system to fill out the roster with quality talent, their opening roster looks shallower than usual.
On defense, mainstays Duncan Keith and Brent Seabrook return while Murphy is a serviceable top-four blueliner.  However, the rest of their back end is full of question marks with either flawed veterans or youngsters who may or may not be able to be impact players.  Bowman had to make a trade for defensive depth last season and he'll likely need to do so again.
Up front, they have just five forwards making more than $1MM.  As a result, they're hoping that some cheap veterans and some unproven talent can hold down the fort; in particular, they're hoping rookie Alex DeBrincat will be able to produce right away and also help replace Panarin's production.  Again though, the depth isn't close to what it once was and will need to be supplemented.
Even with Marian Hossa, Jordin Tootoo, and Michal Rozsival all on LTIR, Bowman won't have a whole lot of money to work with but some holes to fill.  How will he bolster this roster as the season progresses with the limited financial resources he has?  Bowman has gotten creative with the cap before and it wouldn't be surprising if that happens again between now and the trade deadline.
Photo courtesy of USA Today Sports Images.