Even after the arbitration hearing went down yesterday, the Detroit Red Wings and Tomas Tatar have come to an agreement on a long-term contract. The four-year deal will pay Tatar $21.2MM, for an average of $5.3MM per season. With less than 24 hours left before an arbitrator made a decision on a one-year contract, the two sides found common ground that will keep Tatar in Detroit for a few years more. The breakdown is as follows: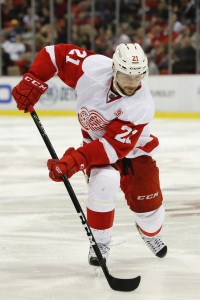 2017-18: $4.875MM salary + $1.125MM signing bonus
2018-19: $5.5MM salary
2019-20: $5.5MM salary
2020-21: $3.2MM salary + $1MM signing bonus
Craig Custance of the Athletic pointed out this morning that the two sides could still reach an agreement in time, and we've seen this before in cases like P.K. Subban who signed an eight-year deal after his arbitration hearing in 2014. Tatar was set to become an unrestricted free agent next summer, and would have been one of the most interesting names at the trade deadline if Detroit hadn't been in playoff contention this year.
Now, the Red Wings have more work to do. With Tatar signed, the team is now more than $3MM over the salary cap for next season with Andreas Athanasiou still to sign. The team does have Johan Franzen still under contract and heading for long-term injured reserve, but like in Toronto and Chicago the team may not want to use "summer LTIR" because of the restrictions it comes with. Instead, they could look to move out some of the hefty contracts for their declining veterans through trade or a buyout.
Like Ottawa earlier today when they signed Ryan Dzingel, this move will open a second 48-hour buyout window for the Red Wings on Monday that they could use to clear cap space. Buying out Niklas Kronwall or Jonathan Ericsson would give them around $2.6MM in savings each next season, though both seem unlikely candidates to be cast aside from the only teams they've ever known. Mike Green, effective but expensive leads the list of trade candidates, as he is on the final year of his current contract and likely doesn't fit into the Red Wings timeline going forward. Moving his $6.0MM cap hit would provide quite the cap relief, if they could ever find a buyer to give them some real value in return.
Salary cap issues aside, this contract actually comes in with less total money than the five-year $25MM contract that Tatar reportedly turned down. Though it is a slightly higher cap hit, it seems as though holding firm worked out for Ken Holland in the end as he got the player for a reasonable contract. Tatar signs at the same cap hit as Ondrej Palat in Tampa Bay, a player with similar production throughout his career. Even if Detroit does decide to throw in the towel and try a real rebuild, this deal is still palatable enough to move for a solid return.
Elliotte Friedman of Sportsnet was first to break the deal, while Craig Morgan of AZ Sports provided the financial breakdown.
Photo courtesy of USA Today Sports Images