The Toronto Maple Leafs have moved out some money after yesterday's spending spree, trading Andreas Johnsson to the New Jersey Devils. The Maple Leafs will get Joey Anderson in return. No other pieces are involved, and the Maple Leafs have not retained any of Johnsson's cap hit.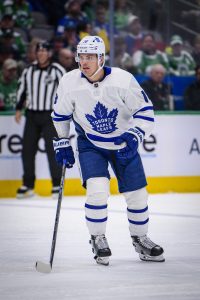 After bringing in Wayne Simmonds and T.J. Brodie for a combined cap hit of $6.5MM, the Maple Leafs needed to move out some money from the forward group. Given they weren't expected to send any of their "big four" packing, a trade of Johnsson should come as no surprise. It also follows the trade of Kasperi Kapanen earlier this summer, meaning the Toronto third line is going to look quite a bit different in 2020-21.
Johnsson, 25, has come a long way since being the 202nd overall pick in 2013. The Swedish forward made his NHL debut in 2018 for the Maple Leafs and earned a full-time roster spot the next season, scoring 20 goals and 43 points as a rookie. That rookie campaign was followed by a four-year, $13.6MM contract in restricted free agency, which was heavily front-loaded with signing bonuses.
While the Devils are taking the entire $3.4MM cap hit for three more seasons, nearly half of the actual money in the deal has already been paid by the Maple Leafs. The Devils will be responsible for just $7.6MM over three years, making Johnsson not only an excellent addition to their forward group, but an inexpensive one too.
Devils GM Tom Fitzgerald explained exactly what he sees in his new forward:
Andreas is a hard-working, competitive forward who can slot up and down the lineup. The overall versatility of his game will be a great complement to our centermen, with his skating, quickness, and scoring touch.
It's true, Johnsson does have a good amount of versatility in his game and has succeeded even in rather limited minutes. The reason he is even available could be because of his knee injury this season, which required surgery and limited Johnsson to just 43 games. He did work all the way back to play in the Maple Leafs final postseason match, meaning he is hopefully fully healthy for the Devils whenever the 2020-21 training camp begins.
For the Maple Leafs, this deal was certainly about clearing cap space, but they'll also nab Anderson in the trade. The 22-year-old forward was once captain of Team USA at the World Juniors and has played in 52 games at the NHL level. Though he's not expected to ever become a huge scoring threat, he could easily find himself in the Maple Leafs lineup this season, providing his scrappy, give-it-all playstyle in their bottom-six.
Anderson does need to be signed to a new contract as a restricted free agent, but because of his service time is not eligible to sign an offer sheet or file for salary arbitration. With only 13 points in 52 games, he will likely have to ink a very inexpensive deal and hope to prove himself in the Leafs lineup.
Darren Dreger of TSN broke the deal on Twitter