The Pittsburgh Penguins and Anaheim Ducks have made in-season trades in the past, most notably swapping Carl Hagelin for David Perron and Adam Clendening just a few months before the Penguins would go on to win the Stanley Cup. Hagelin was a huge part of that 2016 run, and Pittsburgh GM Jim Rutherford beat the rush at the trade deadline by acquiring him in mid-January. Well, now Rutherford has sent Hagelin packing and the Penguins are looking for more help to get them back into the playoff race, and he at least is looking west at an old trade partner. Elliotte Friedman of Sportsnet writes that Pittsburgh tried to get Brandon Montour out of Anaheim but the Ducks wouldn't move the young defenseman. Friedman then speculates that perhaps Jakob Silfverberg could fit into the Penguins forward group, given they've been unable to find much help from the third and fourth lines this season.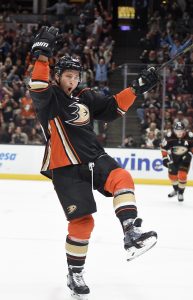 Montour's name has been thrown around plenty this season, with some also pondering whether he'd be a match for a potential William Nylander trade. It's easy to see why teams—including the Ducks themselves—would covet him after recording a 32-point campaign in his first full NHL season. Montour is averaging nearly 22 minutes a game this season and has seen that ice time jump even further since Cam Fowler went down to injury. He played a career-high 29:36 in an overtime loss to the Maple Leafs last week and looks like a top-pairing option even at such a young age.
The Penguins meanwhile haven't been able to keep the puck out of their own net this season, allowing the ninth-most even-strength goals in the league despite having only played 19 games. That's resulted in a 7-8-4 record and a spot at the bottom of the Metropolitan Division standings. Jack Johnson hasn't worked out as planned, and Justin Schultz is out long-term with a leg injury.
Silfverberg though presents a different way to improve the team, given that only six forwards on the team have at least 10 points this season. The 28-year old winger is a pending unrestricted free agent, and has shown an ability to be a consistent 20-goal, 40-point player in the past. That's the kind of offensive help the Penguins could use, and something they were hoping to spark in newcomer Tanner Pearson.
Regardless of whether the Penguins actually have any interest in Silfverberg, it's obvious that the team is still looking for ways to make their team better this season. Pittsburgh is still in win-now mode with Sidney Crosby, Evgeni Malkin and Phil Kessel all still producing at a high level, and have a known horse trader in Rutherford at the helm. It won't be surprising to see them make another move long before the trade deadline talk heats up, and try to right this ship before it gets too far off course.
Photo courtesy of USA Today Sports Images