The 2021 NHL Trade Deadline is just hours away so it's time to wrap up our look around the league with the Winnipeg Jets and where they stand and should be trying to do.
The Jets came into this season as a bit of a wild card team.  Connor Hellebuyck gives them high-level goaltending while they bolstered one of the better top-six forward groups in the league.  There were questions surrounding the rest of the team but they've answered them nicely so far and are battling for home ice in the first round with a shot still at tracking down Toronto for first in the North.  With that in mind, Kevin Cheveldayoff should be looking to try to add over the next few hours.
Record
25-13-3, 2nd in West Division
Deadline Status
Buyer
Deadline Cap Space
$0 in regular cap space, $2.43MM in LTIR room, 1/3 retention slots used, 44/50 contracts used per CapFriendly.
Upcoming Draft Picks
2021: WPG 1st, WPG 2nd, WPG 3rd, WPG 5th, WPG 6th
2022: WPG 1st, WPG 2nd, CBJ 3rd, WPG 3rd, WPG 5th, WPG 6th, WPG 7th
Trade Chips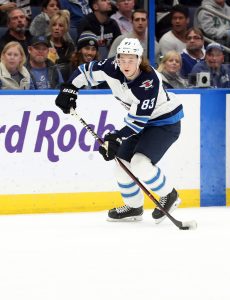 Cheap defensemen are always in high demand at the trade deadline and Winnipeg has one of those in Sami Niku.  For years now, he has been on the cusp of making it as a regular but has yet to do and has dropped a couple of spots on the depth chart with Logan Stanley holding his own and Ville Heinola waiting in the wings.  He's someone that they can easily hold on to for expansion purposes as he is already signed for next season at just a $725K cap hit but at 24, there are likely rebuilding teams that would like to get a closer look at him.  Instead of flipping a mid-round pick for a rental, Niku could be substituted, a move that would also give Winnipeg a little more cap flexibility.
Kristian Vesalainen is a name that many are familiar with going back to his days in the SHL before he was drafted.  However, the offensive potential that was believed to be there hasn't really materialized since Winnipeg picked him 24th overall back in 2017.  In his limited NHL action this season, he has been limited to duty on the fourth line and that's not a great fit for his particular style of play.  The Jets would certainly be selling low but his value is likely only going to continue to dip the further he gets into his entry-level deal which has another year left on it.  If there's a team that still really believes in Vesalainen's upside, this may be the right time to move him.
Mathieu Perreault's name has come up many times over the years as a speculative trade or even buyout candidate but now as an expiring contract, this is his last chance to be moved and this may be his likeliest chance of moving compared to those other times.  If Cheveldayoff wants to go after a higher-priced player, Perreault's $4.125MM AAV could quite plausibly be thrown into the deal as a salary offset over asking a team to retain, especially with some of the sellers likely to use their three allowable retention slots.  He's a versatile player that certainly has a role on the roster but if they need to take away a sizable contract to add another one, Perreault is the obvious candidate to be thrown in.
Others to Watch For: F David Gustafsson ($817.5K through 2021-22), F Skyler McKenzie ($742K, RFA)
Team Needs
1) Top-Four Defenseman: One team that was almost certainly disappointed by David Savard heading to Tampa Bay was Winnipeg as they've had a need for a blueliner that can log 20 minutes or more pretty much all season.  Actually, you could go back to last year for that particular need.  There aren't many other rentals that could fit that bill – New Jersey's Ryan Murray may be one of the exceptions – but Cheveldayoff needs to find a way to get one despite the limited LTIR room he has to work with.
2) Upgrade Fourth Line Depth – Winnipeg has not used their fourth line much this season with Perreault being the only one averaging more than ten minutes a night.  There isn't anything wrong with targeting defensive specialists to help in those situations but adding a piece or two that Paul Maurice would be comfortable using for more than nine minutes a game would help keep their top players a bit more rested down the stretch and give them some extra insurance in case more injuries arise.
Photo courtesy of USA Today Sports Images.