Over the last year, the Colorado Avalanche—and GM Joe Sakic in particular—have taken a lot of heat from media and fans for their performance on and off the ice. Heading into 2017 with a 12-23-1 record, they would go 10-33-3 over the last few months of the 2016-17 season to finish what was a historically bad campaign. Their players seemed to quit on the ice, and rumors of discontent in Jared Bednar's locker room were rampant. Matt Duchene, one of the long-time faces of the franchise asked for a fresh start elsewhere, but was forced to finish the year and wasn't promised anything going forward.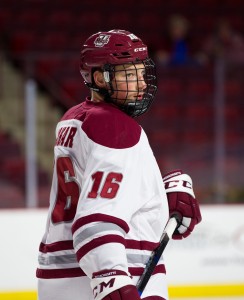 In June, the team lost a young goaltender in Calvin Pickard to the expansion Vegas Golden Knights and were bumped all the way out of the top-3 in the draft lottery despite their last-place finish. Duchene trade rumors persisted, but Sakic wouldn't lower his high asking price. Still, on the draft floor the Avalanche would be able to select exactly what they needed at fourth-overall. Cale Makar, an undersized defenseman whose most noticeable flaw was that he hadn't played against high-level competition, dropped into their laps.
They'd be even more excited when Conor Timmins, a more traditional two-way defenseman from the OHL would slip out of the first round entirely. Timmins had climbed to 18th on the CSS rankings among North American skaters—and fourth among North American defensemen—by the end of the 2016-17 season, and yet still fell all the way to Colorado at 32nd-overall.
The rest of the summer went relatively uneventful, with all eyes still on Duchene, and the season began with a relatively similar Avalanche squad. The on-ice performance wouldn't look anything like the end of the previous year though, as Colorado would go 8-5-0 through their first 13 games, led by a determined Duchene and energized Nathan MacKinnon. Then, on November 5th against the New York Islanders, Blake Comeau would be helped off the ice and down the tunnel to assess an injury. Behind him, Duchene would slip away as well, just informed that he'd been traded to the Ottawa Senators mid-game.
That deal, the one that Sakic had been pursuing for months, came about by involving both Ottawa and the Nashville Predators. The Avalanche finally received their asking price of a young NHL-ready defenseman (Samuel Girard), top prospect (Vladislav Kamenev) and first-round pick. Amazingly, they also added another top prospect in Shane Bowers, and two additional draft picks (Nashville's 2018 second-round pick, and Ottawa's 2019 third-round pick). It's more than anyone expected Sakic would get for a player that now had fewer than two years remaining on his contract.
Colorado would lose that game against the Islanders, and the next two against the Duchene-led Senators while in Sweden. But since then, the team has gone 11-9-2 and is still in the playoff mix in the Western Conference. Their 41 points puts them at the bottom of the Central Division, but only three points behind the Anaheim Ducks for the final wildcard spot. That's a huge step forward for a team that finished with only 48 points total in 2016-17.
It's not going to end there.
While Girard is showing that he's ready for a full-time role in the NHL at the tender age of 19, Makar and Timmins are starring for Team Canada at the World Junior tournament. Makar started as the team's seventh defenseman, but has shone as Canada deals with injuries to several older and more experienced players. Both defensemen scored today against Switzerland, skating together at even-strength. Timmins is part of a powerhouse Sault Ste. Marie team in the OHL that has lost just three games in regulation, and could be in line for a Memorial Cup berth.
Suddenly, when you start imagining a blueline patrolled by those three and an offense led by MacKinnon and Mikko Rantanen, only 22 and 21 respectively, the future doesn't look so bleak in Colorado. Add in other high-upside players like Tyson Jost (19) and Alexander Kerfoot (23), a captain in Gabriel Landeskog who just turned 25, and four selections in the top two rounds in what is shaping up to be an incredible draft class, and it might not be very long until there is more than just hope in the Avalanche dressing room.