Navigating the salary cap is one of the more important tasks for any GM.  Teams that can avert total cap chaos by walking the tightrope of inking players to deals that match their value (or compensate for future value without breaking the bank) remain successful.  Those that don't see struggles and front office changes.
PHR will look at every NHL team and give a thorough look at their cap situation heading into the 2020-21 season.  This will focus more on players who are regulars on the roster versus those who may find themselves shuttling between the AHL and NHL.  All cap figures are courtesy of CapFriendly.
San Jose Sharks
Current Cap Hit: $79,146,667 (under the $81.5MM Upper Limit)
Entry-Level Contracts
D Mario Ferraro (two years, $925K)
F Danil Yurtaykin (one year, $925K)
F Lean Bergmann (two years, $837K)
F Fredrik Handemark (one year, $793K)
F Noah Gregor (one year, $768K)
F Alexander True (one year, $763K)
F Joachim Blichfeld (one year, $737K)
Potential Bonuses:
Ferraro: $213K
Bergmann: $133K
Handemark: $133K
Gregor: $65K
True: $20K
Blichfeld: $20K
Total: $584K
The Sharks are overloaded with plenty of prospects on entry-level deals. The team sampled many of those players last year in hopes of finding some bottom-six depth, but very few players were able to make their mark last year. The most obvious success was the play of Ferraro, who established himself as an NHL defenseman after spending two years at the University of Massachussets-Amherst playing alongside Cale Makar, and now will battle for a top-four spot in the Sharks' lineup this year. While his offense is still coming around, the defenseman is a hard-worker and impressive locker room presence already after one season and should only get better.
Another player who should get a legitimate opportunity at center for San Jose is Handemark. The 27-year-old SHL veteran has been solid presence in Sweden for years and now will bring his talents over to San Jose in hopes of adding to the team's bottom-six depth. Handemark had career highs of 14 goals and 38 points in 52 games and should replace the spot formerly held by Joe Thornton. The rest are less likely to make the squad unless one of them can prove they can handle a bottom-six role.
One Year Remaining, Non-Entry-Level
G Devan Dubnyk ($2.17MM, UFA)
F Ryan Donato ($1.9MM, RFA)
F Marcus Sorensen ($1.5MM, UFA)
F Stefan Noesen ($925K, UFA)
F Patrick Marleau ($700K, UFA)
F Matthew Nieto ($700K, UFA)
F Antti Suomela ($700K, UFA)
F Dylan Gambrell ($700K, RFA)
*- Minnesota is retaining an addition $2.17K of Dubnyk's cap hit and salary
One of the most interesting acquisitions this offseason was bringing in both Dubnyk and Donato from Minnesota. Both be free agents in a year, although Dubnyk will be an unrestricted free agent. The team brought in the long-time Wild starter with the hopes that the 34-year-old might push for the starting goalie spot next season. Dubnyk is coming off one of his worst seasons in Minnesota after many solid seasons. The team hopes he can bounce back and solidify a weak position last year. The other piece to the trade with Minnesota was Donato, a highly-touted college prospect who is already on his fourth team in just three years. The Sharks hope that dropping him into a top-six situation might set the young forward off after scoring 14 goals last season.
For a minimum deal, the team will bring back Marleau, who has the opportunity to pass Gordie Howe for first place in the NHL in games played this season. Sorensen and Noesen should establish themselves in the bottom six. Sorensen looked on the verge of joining the top six after a 17-goal season in 2018-19, but came down to earth instead, scoring just seven goals. Noesen scored 13 goals in 2017-18 with New Jersey, something that San Jose hopes he can re-create this season. The same sentiment goes for veteran Matt Nieto signed out of Colorado.
Two Years Remaining
F Tomas Hertl ($5.63MM, UFA)
F Joel Kellman ($750K, UFA)
D Jacob Middleton ($725K, RFA)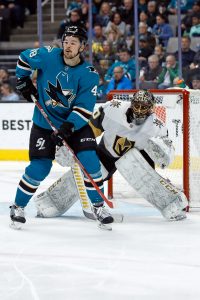 Not much went right in San Jose last year and a major injury to Hertl, who tore his ACL and MCL in his left knee in January and had surgery in February to repair them. However, when healthy, Hertl was one of the team's top players. He made the all-star game after posting 16 goals and 36 points in 48 games before the injury and was coming off a 35-goal season the previous year. If the team can get him healthy and have him bounce back in 2020-21, the team should be in good shape and have two seasons to observe his play before having to make a decision on a long-term deal.
Three Years Remaining
F Timo Meier ($6MM, RFA)
The 24-year-old forward has proven to be a solid, dependable goal scorer for the Sharks as he posted 22 goals and 49 points in 70 games last year. That's a touch less than the 30 goals and 66 points he had in 78 games in 2018-19, but considering the type of season that San Jose had, he is still one of the core pieces for the next three years.Read more