When Paul Fenton was fired a few weeks ago by the Minnesota Wild, not only did the team have to start an immediate (and perhaps desperate) search for a new general manager, but the rest of their offseason was put on hold. Assistant GM Tom Kurvers took over the day to day operations, but has only officially signed prospect Hunter Warner in that time. What does it mean for the team's other restricted free agents? Well Kevin Fiala told reporters including Dan Rosen of NHL.com that he now just has to "see and wait" for the Wild to name a new GM before his negotiations can continue. Fenton and Fiala's agent Claude Lemieux were working on a contract when the dismissal happened, meaning the young forward is now in a sort of limbo as he watches from afar.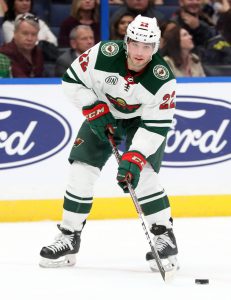 Fiala has known Fenton for years going back to their time in the Nashville Predators organization. It was 2014 when the young forward was selected 11th overall, likely thanks at least in part to the then-assistant general manager who was known for his scouting abilities. Fenton, who was also GM of the Milwaukee Admirals of the AHL, then helped develop Fiala into the player he is today, the one that he went after at this year's trade deadline. Fiala came to the Wild in exchange for Mikael Granlund and put up seven points in 19 games down the stretch. The 23-year old explained to Rosen what it meant to him when he heard the GM had been fired:
He's a great person and he has had an impact on my life, not just my career. It was emotional on that day and a few days after, but at the end of the day it's business. That maybe sounds stupid, but it is. For me right now it's just focusing on the season.
There's no doubt that Fiala has immense potential that has flashed at times throughout his young career, but the Swiss forward took a mild step backwards last season when he recorded just 39 points combined between the two clubs. Gone was the 23-goal campaign from 2017-18 and with it some leverage in contract negotiations. Whoever the Wild bring in as GM will likely not have the same connection to Fiala and will have to decide what kind of salary and term the team wants to commit.
With three full seasons under his belt Fiala has four years of restricted free agency remaining and could be arbitration eligible next summer. The Wild also have Joel Eriksson Ek to get signed, who is also coming off a rather disappointing season but still possesses lots of potential to become a key contributor for Minnesota.
Photo courtesy of USA Today Sports Images