As Thanksgiving and the holiday season approaches, PHR will be taking a look at what teams are thankful for in 2023-24. There also might be a few things your team would like down the road. We'll examine what's gone well in the early going and what could improve as the season rolls on for the Buffalo Sabres.
Who are the Sabres thankful for?
The Sabres raised a lot of eyebrows when they signed the 23-year-old to an eight-year $88MM contract extension back in October that made him one of the highest-paid defensemen in NHL history. The signing made sense from Dahlin's perspective as he cashed in on a career year and became one of the highest paid players in the league.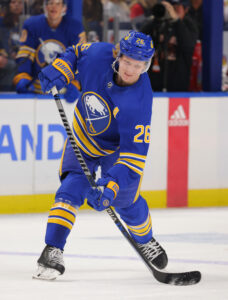 From the Sabres perspective, there were a few question marks. Dahlin has never finished above eighth place in Norris Trophy voting and has only garnered consideration one time. However, the Sabres bet on Dahlin's continued development going forward and are hoping he will turn into a perennial Norris Trophy contender throughout the life of the deal.
A month after signing the deal, Dahlin has given the Sabres everything they could ask for. He has averaged almost 25 minutes a night of ice time, playing in all situations. He has been terrific for the Sabres at even strength, while remaining a threat on the power play and has even worked on the penalty kill, putting up solid numbers in the process.
Dahlin has really demonstrated his value to Buffalo while center Tage Thompson has been out of action. The Sabres desperately needed someone to step up in Thompson's absence and so far, Dahlin has been one of the leaders to fill the void. In Sunday night's game against the Chicago Blackhawks Dahlin had a goal and two assists and was pivotal in the Sabres ending their three-game losing streak
Dahlin posted 73 points in 78 games last season while averaging almost 26 minutes a night in ice time, this season his numbers thus far are almost identical. He is averaging about a minute less of ice time per game, but offensively he is on pace to come close to last season's totals. Dahlin has four goals and 12 assists in the first 19 games of the season and has been much more physical and has also been more responsible with the puck than in seasons past.
What are the Sabres thankful for?
Their fanbase.
Buffalo sports fans are some of the most enduring fans in the world. You don't lose four Super Bowls in a row without learning a thing or two about remaining passionate in the face of adversity. But still, credit to the fans of the Buffalo Sabres for still turning up in droves year after year to see a team that hasn't made the Stanley Cup playoffs for 12 straight years.
Some people will point to the Sabres attendance this year and say that their numbers are down (which they are), but for the most part, the fans are still turning up in person to watch a team that hasn't given them anything to cheer about for over a decade. The Sabres crowds might be smaller than in years past, but the crowd is still loud and passionate and firmly behind the team.
It will be interesting to see what the attendance numbers look like for the remainder of the season as Buffalo came into this year with playoff aspirations and thus far hasn't looked like a playoff team. The Sabres have started the year 8-9-2 and if their season starts to go sideways, they could see more nights where there are over 5,000 empty seats in the KeyBank Center like we saw a few weeks ago.
What would the Sabres be even more thankful for?
A solution to their three-goalie situation.
The Sabres have been rolling this season with three goaltenders which hasn't been an ideal set of circumstances for a team that needs help in the goal-scoring department. The Sabres have been unable to bring up any of their scoring prospects from the AHL because of the roster spot being occupied by the third goaltender. And make no mistake, Jiri Kulich and Isak Rosen are both recent first-round picks that could both help the Sabres with their scoring woes.
The three-goalie situation also hasn't been great for all the goaltenders involved either. Ukko-Pekka Luukkonen has been solid thus far for Buffalo going 4-3-1 with a .911 save percentage, but Eric Comrie has been uneven going 1-2 with an .898 save percentage. While all those numbers are pretty run-of-the-mill, poor Devon Levi has struggled to gain any traction with a 3-4-1 record and a .879 save percentage.
The solution to the situation would likely be unpopular in Buffalo, but it would be the most practical. One goaltender needs to be sent to the minors and given their contract situations it would most likely be Levi as he is exempt from waivers and could be sent down without the risk of the Sabres losing him. Luukkonen and Comrie could be sent down to the AHL, but they would likely be claimed by another team should Buffalo elect to do that.
Levi doesn't exactly deserve a demotion, but given Buffalo's struggle to score, his contract situation and play, it would be the most pragmatic move that Buffalo could make.
What should be on the Sabres holiday wish list?
An offensive forward.
As I mentioned before, the Sabres need to score more, and an offensive-minded forward would go a long way to adding some punch to their offensive attack. The Sabres do boast a fair amount of young offensively gifted players, but many of them are just learning the pro hockey game and have yet to find the consistency that Buffalo needs to get back to the playoffs.
The Sabres have been tied to hometown boy Patrick Kane, and while Kane certainly has the offensive pedigree, he is a bit of an unknown given the situation with his hip recovery. If he could regain some of the form he showed in Chicago just two years ago, Kane could be a solution to Buffalo's problems, but it would be asking a lot from a player who is coming off major surgery.
The fact that Buffalo is in on Kane is an indication that they would like to add a high-end offensive forward which should be encouraging to Sabres fans. If Buffalo can find space to bring up one of their young scoring forwards from the AHL and find an offensively talented forward from outside the organization, they might be able to finally optimize their offense.