The Anaheim Ducks have signed winger Troy Terry to a seven-year contract, per the team, avoiding an arbitration hearing with the young forward set for today. The Athletic's Eric Stephens reports the contract carries a $7MM average annual value. With the news, all pending arbitration cases this offseason are now concluded.
Terry's career in Anaheim began rather unceremoniously, selected 148th overall in the 2015 NHL Entry Draft. Elite offensive production at the University of Denver, plus some memorable international appearances for the United States, quickly boosted his stock as a prospect, however. Although he didn't make the Ducks full-time immediately after turning pro in 2018, it took just a year and a half of seasoning in the minors for Terry to transform into a legitimate NHL talent.
At 23 years old in 2020-21, Terry played in 48 out of 56 games during the COVID-shortened campaign but largely played bottom-six minutes on a Ducks team that finished with a .384 points percentage and failed to do much of anything well. Despite that, he managed to finish fifth on the team in scoring with 20 points, providing some very solid two-way play in the process. That performance set the basis for the following two seasons, which have seen Terry develop into a top-flight, All-Star caliber winger for the struggling Ducks.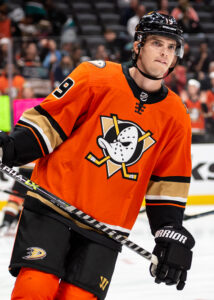 Now 25, the Denver native exploded for 60 goals, 68 assists and 128 points in 145 games since 2021. He's maintained his status as a possession monster, too, posting a career-high relative Corsi For percentage of 7.9 at even strength last season. His 23 goals in 70 games last year tied Trevor Zegras for the team lead, and his average ice time of 19:22 ranked first among Ducks forwards. Needless to say, Terry has transformed into a franchise pillar for Anaheim in the span of a few years, and he's now been rewarded with the highest cap hit on the team. That's a stat that could change in the coming days, however, as Zegras remains without a deal for next season.
While Anaheim has indeed struggled over the past few campaigns, that's not an indication of Terry's inability to lift the team around him. The team's patchwork defense and subpar scoring depth have limited their ceiling, all the while, Terry has managed to continue developing undeterred. He's become a prototypical first-line winger without many weaknesses in his game, possessing an accurate shot while building out his playmaking ability to a high-end level.
Now, Anaheim looks to Terry to keep it up over the rest of the decade as their next wave of prospects begins to hit the NHL. They already had a promising one-two punch at center led by Zegras and Mason McTavish but now also have Swedish phenom Leo Carlsson as the second overall pick in this year's draft. The team has one of the better goalie prospects in the sport in Lukas Dostal, who's set to make the jump to the NHL full-time this season in a backup role. Consider a very strong defense pool led by Jamie Drysdale, Olen Zellweger, Pavel Mintyukov, and Jackson LaCombe, and it doesn't seem like Anaheim will be in the throes of a rebuild much longer.
Terry's long-term extension accentuates an offseason in which the Ducks tried to fill out their developing core with seasoned depth, inking two-time Stanley Cup champion winger Alex Killorn and bruising right-shot defenseman Radko Gudas in free agency. His contract, which keeps him in a Ducks jersey through 2030, carries an even $7MM salary spread in each season and a ten-team no-trade list beginning in 2025-26, per PuckPedia.
Despite the strong list of names in the system, most of them aren't ready to make the jump to full-time impactful NHLers next season. Expect a marginal amount of improvement from the Ducks under new head coach Greg Cronin next season, but the first season of Terry's massive extension figures to be another forgettable one for the 2007 Stanley Cup champions.
CapFriendly projects the Ducks with upwards of $20MM in cap space for next season, a solid chunk of which will go to new deals still needed for Drysdale and Zegras.
Photo courtesy of USA Today Sports Images.