Navigating the salary cap is one of the more important tasks for any GM.  Teams that can avert total cap chaos by walking the tightrope of inking players to deals that match their value (or compensate for future value without breaking the bank) remain successful.  Those that don't see struggles and front office changes.
PHR will look at every NHL team and give a thorough look at their cap situation heading into the 2020-21 season.  This will focus more on players who are regulars on the roster versus those who may find themselves shuttling between the AHL and NHL.  All cap figures are courtesy of CapFriendly.
Arizona Coyotes
Current Cap Hit: $84,270,284 (over the $81.5MM Upper Limit)
Entry-Level Contracts
F Barrett Hayton (two years, $894K)
Potential Bonuses
Hayton: $1.75MM
Once considered a team full of young players, the Coyotes have changed their image over the last few years and have only one young player on their team under a cheap entry-level deal with only a handful of entry-level players that are even close to joining the team. Hayton, however, could be ready for a breakout season after spending the season with the team last year. Unfortunately for Hayton, he would have benefitted the most with one year in the AHL, but wasn't eligible to play there, so instead of returning him to his junior team, the Coyotes kept him around. He only appeared in 20 games (although he did miss time with a shoulder injury at the World Juniors), but showed enough potential that he should be an everyday player next season. A big year from the 2019 fifth-overall pick would be a boost to the team's center position.
One Year Remaining, Non-Entry-Level
F Derek Stepan ($6.5MM, UFA)
D Alex Goligoski ($5.48MM, UFA)
F Marian Hossa ($5.28MM, UFA)
D Niklas Hjalmarsson ($5MM, UFA)
G Antti Raanta ($4.25MM, UFA)
D Jason Demers ($3.94MM, UFA)
D Jordan Oesterle ($1.4MM, UFA)
D Ilya Lyubushkin ($1MM, UFA)
F Conor Garland ($775K, RFA)
F John Hayden ($750K, RFA)
F Dryden Hunt ($700K, RFA)
For a team that is looking to cut salary, the team has a lot of money coming off the books next year, suggesting the team could look drastically different in just one year. Some of those players could find themselves to be trade bait when the trade deadline comes around. The most interesting decision the team might have to make is what to do with Stepan, however. The 30-year-old was brought in from New York to stabilize their top line three years ago. He had four straight seasons of 50 or more points while with the Rangers and posted a 56-point season with the Coyotes in 2017-18. However, his production has taken a dive over the past two years as Stepan posted just 35 points (in 72 games) in 2018-19 and then dropped even further last year with just 28 points in 70 games. A team leader, the Coyotes have to hope that Stepan can return to form this season or the team could choose to move on from him.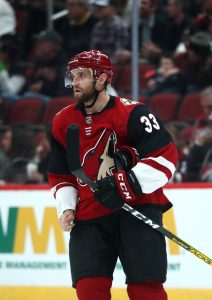 The team's defense is loaded with several high-priced veteran blueliners and almost all of their contracts come up next season, including Goligoski, Hjalmarsson and Demers. Goligoski is 35, but is still playing major minutes for Arizona and could be a candidate to return at a slightly lesser deal. Hjalmarsson is 33, but has seen his game break down a bit as he has dealt with numerous injuries the last couple of years, including a fractured fibula that cost him 43 games last year. The 32-year-old Demers also averaged more than 20 minutes of ATOI per game. The team may keep one or two of those players, but likely will not keep all three.
The team will also want to evaluate the play of Raanta, who has showed flashes of dominance, but also has dealt with injuries and inconsistent play at times as well. Raanta did play well last season, posting a .921 save percentage in 33 games and gives the team several options in the net. Raanta could easily be re-signed to new deal or could be a trade candidate as well.
The team will also finally be free of Hossa's $5.28MM contract the team took on years ago.
Two Years Remaining
F Phil Kessel ($6.8MM, UFA)
G Darcy Kuemper ($4.5MM, UFA)
F Tyler Pitlick ($1.75MM, UFA)
F Lawson Crouse ($1.53MM, RFA)
F Johan Larsson ($1.4MM, UFA)
F Christian Fischer ($1MM, RFA)
The team brought in Kessel to bring in the firepower that the team needed as goal scoring remains one of the team's biggest weak points. Unfortunately, the first year with Kessel didn't turn out to be the big acquisition that the team was hoping for. After an 28-goal, 82-point season in 2018-19, the 33-year-old saw quite a decline in his play with just 14 goals and 38 points in 70 games. That's way below what they were hoping for and Arizona has to hope that Kessel can return to form this year in hopes of increasing his value if the team wants to move him at the trade deadline or next offseason when he has just one year left on his deal.
Kuemper has become the Coyotes' top asset as the 30-year-old has been nothing short of dominant over the past two years and remains on a manageable contract. His name came up in trade speculation this offseason, but with so many free-agent goalies available, Arizona didn't get the offers it was hoping for. That could change down the road. Yet at the same time, Kuemper might be worth keeping around down the road.
Three Years Remaining
None