The Sabres are expected to buy out winger Matt Moulson once the window to do so opens up in mid-June, reports Kevin Paul Dupont of the Boston Globe.  The plan to do so shouldn't come as much of a surprise after Moulson cleared waivers earlier this season after just 14 games with Buffalo.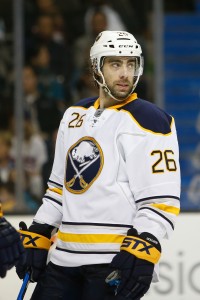 Moulson re-joined the Sabres in July of 2014, inking a five-year, $25MM deal.  (He briefly spent time with them in 2013-14 after they acquired him from the Islanders but he was later flipped to Minnesota before the trade deadline).  However, he failed to live up to expectations and has provided Buffalo with a total of 35 goals over four seasons which is what earned him a one-way ticket to the minors.
After the Sabres decided that they didn't want Moulson to take playing time away from anyone on their own AHL affiliate, they loaned him to Ontario of the AHL, the minor league affiliate for Los Angeles.  The 34-year-old was more productive with them, collecting 46 points (18-28-46) in 49 games which should help his cause as he looks for a new deal.
A decision to buy a player out often results in a fair bit of short-term cap savings for the team but that won't really be the case here.  Due to the front-loaded nature of his contract (he has already received $22MM), the Sabres will incur a cap charge of $3.67MM for 2018-19 plus $667K the following season.  Meanwhile, Moulson will hit the open market and will likely have to settle for a two-way contract as he looks to get back to the NHL with a new organization.
Photo courtesy of USA Today Sports Images.