Navigating the Salary Cap is probably one of the more important tasks for any general manager to have. Teams that can avert total cap chaos by walking the tightrope of inking players to deals that match their value (or compensate for future value without breaking the bank) remain successful. Those that don't see struggles and front office changes.
PHR will look at every NHL team and give a thorough look at their cap situation heading into the 2018-19 season. This will focus more on those players who are integral parts of the roster versus those who may find themselves shuttling between the AHL and NHL. All cap figures are courtesy of CapFriendly.
Current Cap Hit: $75,119,584 (under the $79.5MM Upper Limit)
Entry-Level Contracts
F Dylan Gambrell (one year, $925K)
F Timo Meier (one year, $894K)
F Maxim Letunov (one year, $833K)
F Kevin Labanc (one year, $718K)
Potential Bonuses
Meier: $850K
Gambrell: $425K
Labanc: $183K
Total: $1.46MM
The team has gotten great play from their youth in the last couple of years as several players have taken that next step and become regular contributors to the Sharks' lineup. Meier may be one of the best as the 21-year-old broke out with a 21-goal season last year. The ninth-overall pick in the 2015 draft looks ready to continue a top-six role and perhaps become a key contributor there for many more years. Meier is also playing for a big payday, so if he can take that next step and develop into a 30-goal winger, he would be heading in the right direction.
Gambrell only managed to appear in three games for the playoff-bound Sharks after he signed out of the University of Denver. The 22-year-old center is likely to force his way into a forward role in the bottom-six after he posted three straight 40-point seasons in college. Labanc, who had struggled with consistency in previous years with San Jose, finally broke into a full-time role with San Jose and produced 11 goals and 40 points. He could be primed for an even bigger year, just in time as his entry-level deal will run out.
One Year Remaining, Non-Entry-Level
F Joe Pavelski ($6MM, UFA)
F Joe Thornton ($5MM, UFA)
F Joonas Donskoi ($1.9MM, UFA)
F Marcus Sorensen ($700K, UFA)
F Barclay Goodrow ($650K, RFA)
D Joakim Ryan ($650K, RFA)
D Tim Heed ($650K, UFA)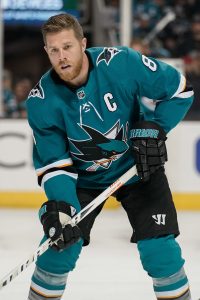 Much of the Sharks success in the next few years will come down to the play of Thornton and Pavelski, two players that have helped carry the team during their years of success. Both players are on their final year of their deal. Thornton signed a one-year deal and only time will tell whether he will continue that career at age 39. Despite suffering a torn MCL in January, he still posted solid numbers, scoring 13 goals and 36 points in 47 games. His days of posting 80 points are likely over, but if he can prove he can still produce, he could be back for several more one-year deals. Pavelski is another matter. The 34-year-old is starting to decline, but likely wants to ink one last long-term deal. While it makes sense that both sides will eventually come to an agreement, much is depending on the success that Pavelski has this season as well.
Donskoi shows improvement as well, posting a career-high 14 goals last season. His play improved to the point that he got some playing time on the first line as he generates shots as the team attempted 53.73 percent of five-on-five shots, while the team shot just 49 percent without him on the ice.
Two Years Remaining
D Justin Braun ($3.8MM, UFA)
D Brenden Dillon ($3.27MM, UFA)
F Chris Tierney ($2.94MM, RFA)
F Melker Karlsson ($2MM, UFA)
G Aaron Dell ($1.9MM, UFA)
D Dylan DeMelo ($900K, UFA)
The team was able to convince Dell to re-sign with the team for two more years as Dell, who has been a great backup to the team, was having a solid year once again. While his goals against wasn't that impressive, at 2.64, Dell played in a career-high 29 games, had 15 wins and a save percentage of .913. Had he not signed an extension, he likely would have been heavily coveted by several NHL teams. And at just two years, he provides quality depth at that position.
Tierney took a surprising leap in his production as he posted career-highs in goals, assists and points as he tallied 17 goals, 23 assists and 40 points, mainly as a third-line center. With Thornton coming back healthy, Tierney will likely take that same role once again, but is just an injury away from being a top-six player for the team.
DeMelo is an interesting case as the 25-year-old started the season as the seventh defenseman, but moved into the lineup and never looked back. Regardless, the team opted not to offer him an offer sheet, but then signed him back anyway, suggesting they don't necessarily consider him to be a major piece to their defensive puzzle. Braun has been a mainstay on the team for years, while Dillon is starting to come around as well, even if he's already 31 years old.
Three Years Remaining
None
Four Or More Years Remaining
D Brent Burns ($8MM through 2024-25)
F Evander Kane ($7MM through 2024-25)
D Marc-Edouard Vlasic ($7MM through 2025-26)
F Logan Couture ($6MM in 2018-19; $8MM through 2026-27)
G Martin Jones ($5.75MM through 2023-24)
F Tomas Hertl ($5.63MM through 2021-22)
The team locked up Burns to an eight-year deal in November of 2016 and then followed that up by signing Vlasic to a eight-year deal in July last year, which is good news for the Sharks as they are the core of the team's defense. While that is good for the present, those two deals could become issues in the future as both defensemen are already in their 30's. Burns' last season of the contract will be played out at the age of 39, while Vlasic will be 38. That could come back to haunt them later.
Couture is in a similar position after he signed a new eight-year deal this offseason. Couture, who is coming off his best season ever after scoring 34 goals and 61 points, but the extension won't kick in next year when he's 30 and will run until he is 38, which also could become an issue down the road. Interestingly enough, the most criticized deal was the seven-year, $49MM deal given to Kane, but at age 27, the deal will run out when he's 34 years old, which means if his play has declined, the impact would be minimum. Kane, who struggled with attitude in a losing situation in Buffalo, thrived in San Jose with a winning group of veterans. Kane, acquired at the trade deadline, posted nine goals and 14 points in 17 games was a key sniper for the team in the playoffs, scoring four goals.
Perhaps the most interesting extension went to Hertl, who proved to be a valuable scorer as he scored 22 goals and went on to sign a reasonable deal at four years and just $5.63MM. His improvement and continued development will be key to their long-term future. Jones is also a solid deal. With goaltending salaries escalating, Jones' $5.75MM deal is very pedestrian, which is good for a veteran goaltender who posted 30 wins and a .915 save percentage.
Buyouts
D Paul Martin ($2.02MM in 2018-19 & $1.42MM in 2019-20)
Retained Salary Transactions
None
Still To Sign
None
Best Value: Hertl
Worst Value: Vlasic
(Excluding entry-level contracts)
Looking Ahead
The Sharks have done a great job of building a core of players and youth that should be able to compete for another five years. The hope is that as their veterans get older, the young players will take that next step and take over. The team might be right up against the cap and will be forced at times to make some moves, but there is no immediate need to fear that the team's salary cap situation will spin out of control. There are few major contracts the team will have to add in the next couple of years besides a possible extension for Pavelski.
Photo courtesy of USA Today Sports Images