Navigating the salary cap is one of the more important tasks for any GM. Teams that can avert total cap chaos by walking the tightrope of inking players to deals that match their value (or compensate for future value without breaking the bank) remain successful. Those that don't see struggles and front office changes.
PHR will look at every NHL team and give a thorough look at their cap situation heading into the 2019-20 season. This will focus more on those players who are integral parts of the roster versus those who may find themselves shuttling between the AHL and NHL. All cap figures are courtesy of CapFriendly.
Edmonton Oilers
Current Cap Hit: $79,066,999 (under the $81.5MM Upper Limit)
Entry-Level Contracts
F Joakim Nygard (one year, $925K)
F Cooper Marody (two years, $925K)
F Kailer Yamamoto (two years, $894K)
D Evan Bouchard (three years, $894K)
F Tyler Benson (two years, $808K)
D Caleb Jones (one year, $720K)
D Ethan Bear (one year, $720K)
Potential Bonuses
Bouchard: $850K
Yamamoto: $230K
Marody: $75K
Jones: $70K
Bear: $20K
The team have a number of young players on entry-level deals, but so far while there is a ton of potential here, not one player has stepped up and established themselves as a full-time player on the Oilers roster. Yamamoto, the team's 2017 first-rounder, was expected to provide the speed that the team needed to develop a fast-paced offense, but after 26 NHL games, he's provided just one goal and four assists. Marody has appeared in six games with no points, while Benson, despite quite a bit of success in the AHL, hasn't gotten a chance at the NHL level, although that's likely to change this season. The team also has high hopes in Nygard, who is a speedy winger, who is coming off a 21-goal campaign in the SHL, but remains a mystery.
On defense, the team might get their 2018 first-round pick, Evan Bouchard, to make the team and contribute quickly, but he also must prove to the team that he's ready for that opportunity. However, Bouchard already has seven games of experience with the Oilers (scoring one goal), while posting three goals and eight points for the Bakersfield Condors of the AHL in eight playoff games. Other defenseman might also be ready, including Bear and Jones. Bear has played two seasons now in the AHL, while Jones got 17 games with the Oilers last season and might be the most NHL-ready.
One Year Remaining, Non-Entry-Level
D Darnell Nurse ($3.2MM, RFA)
F Sam Gagner ($3.15MM, UFA)
D Brandon Manning ($2.25MM, UFA)
G Mike Smith ($1MM, UFA)
F Zack Kassian ($1.95MM, UFA)
D Matt Benning (1.9MM, RFA)
F Markus Granlund ($1.3MM, UFA)
F Kyle Brodziak ($1.15MM, UFA)
F Josh Archibald ($1MM, UFA)
D Joel Persson ($1MM, RFA)
F Tomas Jurco ($750K, UFA)
F Colby Cave ($675K, RFA)
The bulk of the Oilers contracts seem to be one-year deals, which means that many players will have to prove to the Edmonton front office that they deserve a new contract. The team will likely unload the contracts of both Gagner and Manning after this season, which should free up $5.4MM of cap space. The Oilers traded for the veteran Gagner near the trade deadline and he contributed five goals and 10 points in 25 games for Edmonton, but he likely will take a bottom-line role with Oilers this season, while Manning has never been a good fit after being acquired from the Blackhawks in December last season. Smith is another veteran the Oilers have high hopes for, but the team will reassess its goaltending situation at the end of the year and whether to bring the then 38-year-old back for another season. The same can be said for players like Archibald, Granlund and Jurco.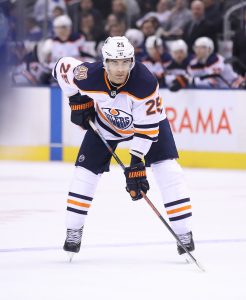 The team will have pay up next season for Nurse, a restricted free agent, who put up career-high numbers last season with the Oilers. The 24-year-old put up 10 goals and 41 points and averaged 23:49 of time on the ice. He also blocked 146 shots, while adding 162 hits as well, making him a solid all-around player despite seeing his plus-minus drop from a plus-15 in 2017-18 to a minus-five last year. The team must decide whether to keep Benning, who will also be a restricted free agent. Benning saw his playing time drop by almost three minutes since the previous year and might lose his job to some of the team's young defensive prospects.
The team also have a number of veteran players, who will hit unrestricted free agency, including Kassian, who saw career highs in ATOI (14:48) and goals (15) and also put up 191 hits as a bottom-line forward for the team. At 28, he could be considered an important keeper for the Oilers. Unfortunately, Brodziak's success in Edmonton wasn't as impressive as the veteran center averaged just 11:42 of ATOI, while scoring career low six goals and nine points.
Two Years Remaining
F Ryan Nugent-Hopkins ($6MM, UFA)
D Adam Larsson ($4.17MM, UFA)
D Kris Russell ($4MM, UFA)
F Alex Chiasson ($2.15MM, UFA)
F Jujhar Khaira ($1.2MM, RFA)
This could be an interesting year for Nugent-Hopkins, who has always been an excellent defensive player, but now has established himself as a solid offensive player as well with a career-high 28 goals and 69 points. However with his contract coming up in two years, the Oilers might want to decide whether he is worth handing a long-term, expensive deal to. If they aren't ready to lock him up, the Oilers might get the most value for Nugent-Hopkins at the trade deadlines. After all, top-six centers rarely come available and considering that any team that trades for him automatically gets another full season out of him, he might become quite a valuable trade chip.
The Oilers must also decide what they want to do with two of their highly-paid defensemen in Larsson and Russell. Both blueliners receive more than 20 minutes a night, but neither provides much offensive talent and haven't been that helpful lately on defense either and between the two of them, the Oilers are giving them $8.17MM. Larsson put up comparable offensive numbers last year, but saw his defensive numbers drop as his minus-28 plus-minus was his lowest in his career by far. Russell also had comparable numbers from the last couple of years and kept his plus-minus in the positive, but the team may look to find a taker for either of them at the trade deadline.
Chiasson earned his two-year deal after posting a career-high 22 goals last season after winning a job in training camp on a PTO. The team hopes that the 28-year-old can duplicate that season. Khaira scored just three goals last season and will have to prove that he belongs on the roster next season.
Three Years Remaining
G Mikko Koskinen ($4.5MM, UFA)
Edmonton surprised many when former general manager Peter Chiarelli signed Koskinen to a three-year, $13.5MM extension last season despite a small sample size as an NHL goaltender. Koskinen didn't fare that well in the second half of the season after signing the extension, putting up a 3.07 GAA and a .902 save percentage, which could make this a rocky relationship if Koskinen can't prove to Edmonton that he is a No. 1 goaltender. The 31-year-old goaltender has spent most of his career in the KHL and may not be the answer that the Oilers were hoping for.
Four Or More Years Remaining
F Connor McDavid ($12.5MM through 2025-26)
F Leon Draisaitl ($8.5MM through 2024-25)
F James Neal ($5.75MM through 2022-23)
D Oscar Klefbom ($4.17MM through 2022-23)
The team has a couple of stud players in McDavid and Draisaitl and most would suggest that they are worth their contracts and they might even be bargains considering how well they were playing. Both have proven to be top-line players and they both broke the 100-point barrier last season and combining for 91 goals. The fact that both are locked up for at least another six years (seven for McDavid) shows that Edmonton already has a base of two franchise players and just need to fill out the rest of their roster with solid players who can fill out the rest of the team.
Neal is an interesting gamble by new general manager Ken Holland. The team was looking for a way to unload the untradeable contract of Milan Lucic, but managed to get the long-term deal of Neal, who is coming off 10 straight seasons of 20 goals or more, before his seven-goal performance last year in Calgary. The team hopes that the 31-year-old can prove that last year's egg was just a fluke and the veteran can bounce back and provide some scoring on the wing for a team that really needs it.
Klefbom is another interesting defenseman, who the team hopes can improve, especially offensively. The 26-year-old managed 38 points back in the 2016-17 season, but has hasn't been able to break 30 points since then. While his minutes are impressive, Edmonton needs to get more from one of their defensemen, who they signed assuming he would develop into a top-line defender.
Buyouts
D Andrej Sekera ($2.5MM in 2019-20 & 2020-21; $1.5MM in 2021-22 and 2022-23)
F Benoit Pouliot ($1.33MM per year through 2020-21)
D Eric Gryba ($300K in 2019-20)
Retained Salary Transactions
F Milan Lucic ($750K per year through 2022-23)
Still To Sign
Much has already been written about the impasse between the Oilers and Puljujarvi, who has demanded to be traded because he believes he can't become a top forward in Edmonton. Holland has received no viable offers from other NHL teams and it looks likely that Puljujarvi might have to stay overseas for a season and hope that he can develop his game overseas with Karpat of the Finnish League and come back in a year with a new sense of purpose. However, nothing has happened yet and there's always a possibility that he opts to come back to Edmonton and tries it again. The only problem: he's not waiver exempt anymore, meaning he must stay on Edmonton's roster or be placed on waivers and undoubtedly would be claimed by another team.
Best Value: Draisaitl
Worst Value: Koskinen
Looking Ahead
The team has its franchise players and with plenty of cap space freeing up next season, the team might have a way to add even more talent. However, what Edmonton needs more than anything is to see some of their young talent take that next step and begin making some major improvements. The Oilers have a dearth of talent on defense that should slowly be trickling in over the next few years, but more than anything Edmonton needs scoring. While McDavid and Draisaitl cost the franchise a great deal, the team must find the wingers that can get the team back into the playoffs.
Photo courtesy of USA Today Sports Images.