It's not often that we see someone bring their career almost entirely back from the dead, but that's exactly what happened just a handful of seasons ago with Tyler Ennis. Now entering his potential 14th NHL season at age 33, though, Ennis remains without a contract for next season.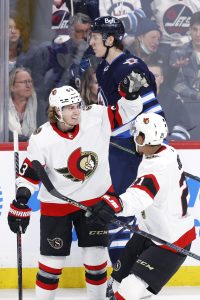 Ennis failed to record more than 10 goals or 25 points in three straight seasons from 2016 to 2018, largely due in part to injuries but also declining play. It led the Minnesota Wild to buy out the final season of a five-year, $4.6MM AAV contract (originally signed with Buffalo) after just one season with the team. A 12-goal campaign with the Toronto Maple Leafs in 2018-19 despite virtually no ice time raised some eyebrows, and, in 2019-20, Ennis was back on the map with a 37-point campaign split between the Ottawa Senators and Edmonton Oilers.
2020-21 was a rough one for Ennis, though, as it looked like the resurgence had run out for the veteran forward. Opting to stay with Edmonton after the previous year's trade, Ennis appeared in just 30 games and was limited to nine points, often being a healthy scratch. Returning to Ottawa for the 2021-22 campaign restored some of that production, though, looking much closer to being an everyday bottom-six player. For teams looking for a skill option on the wings, Ennis presents an inexpensive gamble with a 20-to-30 point upside.
Stats
2021-22: 57 GP, 8-16-24, -6 rating, 16 PIMs, 89 shots, 48.8% CF, 12:33 ATOI
Career: 700 GP, 144-202-346, -84 rating, 224 PIMs, 1446 shots, 46.3 CF%, 15:10 ATOI
Potential Suitors
If you ask Ennis, he's almost surely looking for a chance to win after a 700-game NHL career has yielded no playoff success outside of the first round. But Ennis isn't in the top tier of veteran free agents looking to land deals (think Paul Stastny, Phil Kessel, Evan Rodrigues). With so many teams uncomfortably close to or over the salary cap, Ennis might not have many offers from the best of the best.
Unless you're talking about the defending Stanley Cup champions. If the Colorado Avalanche can't manage to re-sign Nazem Kadri, they have ample cap space to add a couple of remaining free agents, especially at a league minimum cost. With a depleted bottom-six group, Ennis could be an improvement on expected fringe players like Mikhail Maltsev, Anton Blidh, and Jayson Megna.
And while they may not be the best of the best right now, a return to the State of Hockey could also be in the cards for Ennis. The Minnesota Wild are still looking for some extra roster depth, allowing youngsters like Adam Beckman to have a big role in the AHL rather than sitting around as a healthy scratch. Ennis likely provides more offensive upside than someone like Connor Dewar or Brandon Duhaime, and if things really don't pan out, he'd be a valuable veteran addition to the AHL's Iowa Wild.
Projected Contract
You'd be hard-pressed to find a team willing to give Ennis much more than the league-minimum $750K on a one-way deal. He is coming off a one-year contract that paid him $900K, but as his offensive upside continues to get less likely with age, a raise for Ennis likely isn't in the cards.
Photo courtesy of USA Today Sports Images.