Nashville Predators GM David Poile told reporters today that some players on the club wouldn't be returning, but this probably isn't exactly what he meant. This afternoon on TSN radio in Vancouver, defenseman Dan Hamhuis announced his retirement. Hamhuis had been considering playing in Europe for a year just for the experience, but the COVID-19 pandemic changed those plans. Instead, he'll skate off into the sunset following his 16th season in the NHL.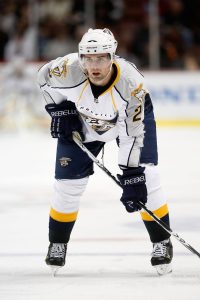 Hamhuis, 37, was selected 12th overall back in 2001 by the Predators in just the third draft the franchise ever took part in. It turned out to be quite the selection as his 1,148 regular season games are more than any other player from the class (though Jason Spezza will try to break that record next season). Once he got to the NHL in 2003, Hamhuis never looked back, quickly becoming one of the most reliable two-way defensemen in the league.
In that first season as a rookie, the left-shot Hamhuis averaged more than 22 minutes a night, a number he would hover around for the next decade-plus. While never a huge offensive threat, he recorded at least 20 points in each of his first 11 NHL seasons while also playing against the opponent's best on a regular basis.
Hamhuis won't be going to the Hall of Fame, but his career is one of incredible consistency. He reached the playoffs ten different times, going the farthest as part of the Vancouver Canucks run in 2011. He returned to his original organization in 2018 after stops in Vancouver and Dallas, and says goodbye as a member of the Predators, exactly how he said hello.