Last summer, Kris Versteeg didn't get much action on the free agent market. He was 30, coming off a 38 point season in which he was traded at the deadline—basically a tradition in the NHL at this point—and ended up signing in Switzerland because he couldn't find a contract around the league. A one-year deal with SC Bern of the NLA and Versteeg could try to rebuild his value while enjoying the sights of Europe. It was surely a bit disappointing, but it was at least a contract with a professional team. Only the disappointment wouldn't end there.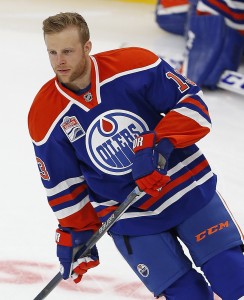 Much later in the summer, Versteeg and Bern would end up terminating his contract because of some mixture of a failed medical and inability to gain insurance due to his previous hip injury, putting him back on the market after some NHL training camps had already begun. Again he was without a contract, and now without the ability to play in Europe (or at least for Bern) would have to slightly alter his plans. So Versteeg, the four-time 20-goal scorer and veteran of 550 NHL games, would sign a professional tryout with the (at that time) lowly Edmonton Oilers. With it came no guarantee of an NHL contract, but why not try out for a team close to home that has an up-and-coming core.
He'd stay with the Oilers for the next month, before abruptly signing with the rival Calgary Flames just a day before the two teams were set to kick off their seasons against each other. Versteeg's deal would be for just $950K, and he'd pull on a Flames sweater on October 12th to open the year, playing 13:47 against the team he'd been practicing with for most of training camp. That $950K would go on to be quite a bargain, as Versteeg would put up 37 points in just 69 games and do enough to earn another contract—this time worth $1.75MM—with the Flames this spring.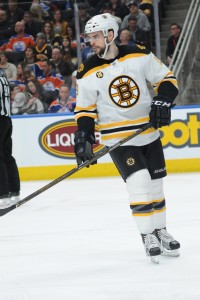 This summer, there seems to be a similar player left out in the cold after all the free agent shopping has been done. Drew Stafford has had very little written about him since the free agent period began, other than some thought that Boston had quickly moved on from the idea of bringing him back. Like Versteeg, Stafford had been traded mid-season, where he found some success with the Bruins down the stretch by registering eight points in 18 games. Though not a top-line player anymore, he still can provide some secondary scoring in the right situation.
Stafford, less than a year older than Versteeg will turn 32 this October and could still help an NHL team even if he's not the 30-goal scorer of his youth. He's just a year removed from registering 21 goals, but looks like he may have to take a PTO of his own in order to showcase that he still has some game left in him. He can still be an effective penalty killer, and won't hurt you defensively if deployed in a bottom-six role, but has the offensive chops to move up on a short-term basis to fill in for injury. He's a worthwhile experiment on a no-risk PTO, especially with the upside of an almost-free 20-goal man.
If he can't find work this year in the NHL, there is also the opportunity that the Olympics present as he could easily make a US squad that will be made up of mostly college-aged players. Stafford would instantly provide some international experience, as he won World Junior gold back in 2004 and has suited up for Team USA in the World Championships three times. And, iff not the Olympics, there's always Bern* (*pending medical evaluation).
Photo courtesy of USA Today Sports Images