The Rockford IceHogs have released veteran goaltender Scott Darling from his AHL professional tryout after he played just a single game with the team. The 32-year-old allowed five goals on 27 shots earlier this month, good for an .815 save percentage.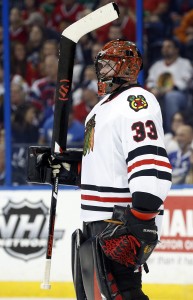 It's not exactly clear where Darling goes from here. He had been in NHL training camp with the Florida Panthers, but failed to receive a contract there too, and even struggled during his time in the Austrian league last season. While he obviously wants to keep playing, it might be the end of the line for the Stanley Cup champion.
Darling won that championship with the Chicago Blackhawks in 2015 after bursting into the league as an elite backup. He put up a .936 save percentage through 19 appearances that season, including five playoff games. Two more strong seasons as the backup in Chicago led to a four-year, $16.6MM deal to be the new starter in Carolina, but he would play just one season with the team before ending up in the minor leagues and eventually bought out.
If it is the end of his NHL career, Darling finishes with a 54-42-18 regular season record, a .908 save percentage, and a 2.72 goals-against average. He won the Stanley Cup and took home a bronze medal at the 2018 World Championship.
Photo courtesy of USA Today Sports Images