We're continuing to break down each team's situation as it pertains to the 2017 NHL Expansion Draft, coming up next week: which players are eligible, and which will likely warrant protection or may be on the block. Each team is required to submit their protection lists by 4pm CDT on June 17th. The full rules on eligibility can be found here, and CapFriendly has provided a handy expansion tool to make your own lists.
Steve Yzerman fired the first shot in the pre-expansion draft trade market by acquiring  Mikhail Sergachev from Montreal for Jonathan Drouin, a move that gave the Lightning flexibility both with the cap and their expansion protection list. It also filled a need with the Bolts on defense. With that in mind, it makes Yzerman and the Lightning's decisions slightly easier as to who to protect and who to expose. But there are still some tough choices to make.
Eligible Players (Non-UFA)
Forwards: Steven Stamkos (NMC), Ryan Callahan (NMC), Nikita Kucherov, Alex Killorn, Vladislav Namestnikov, J.T. Brown, Erik Condra, Cedric Paquette, Ondrej Palat (RFA), Tyler Johnson 
Defensemen: Victor Hedman (NMC), Jason Garrison, Anton Stralman, Braydon Coburn, Andrej Sustr (RFA), Slater Koekkoek, Jake Dotchin
Goaltender: Andrei Vasilevskiy, Kristers Gudlevskis (RFA)
Notable Exemptions
Mikhail Sergachev, Brett Howden
Key Decisions
Unloading Drouin certainly helped from a financial and expansion list aspect.  This makes it somewhat easier for forwards to put on the protected list.
Ondrej Palat and Alex Killorn are both choices that benefitted from Drouin being moved. Killorn netted 19 goals while Palat will continue to get better. Stamkos and Callahan both have NMCs. Despite fighting injury and not matching his production from 2014-15, Johnson is too good of a talent to leave exposed.
It's on defense where tougher decisions need to be made, and it will come down to three players. Hedman and Stralman will both be protected, Hedman because he has a no-movement clause and Stralman is key to the Lightning blueline. Jason Garrison and Braydon Coburn are both carrying heavier hits for the cap and will most likely be left alone when they're exposed. Garrison could hypothetically be taken with his deal ending at the conclusion of the 2017-18 season, but the $4.6MM hit would probably scare Vegas away.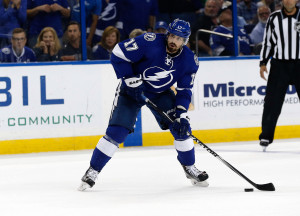 That leaves three choices to protect: Andrej Sustr, Jake Dotchin, and Slater Koekkoek. Sustr is a restricted free agent and won't be able to command much in the way of money after having a down year. That doesn't make him exempt from being exposed. If anything, seeing his numbers drop with a number of other options pounding on the door for the big club could make him the odd man out. However, he's still an economical option and any leverage he had took a hit with the acquisition of Sergachev, who if scouting is correct, should find time on the Tampa blueline next season. But the problem with protecting Sustr is that Tampa would risk losing two young, and talented defensemen for nothing. In the same breath, would the Bolts want to possibly lose a steady defenseman who is only 26?
That leads to Dotchin and Koekkoek. Dotchin just turned 23, and registered 11 points in 35 games this season. The problem is, as Lightning blog Raw Charge pointed out, his sample size was limited compared to Koekkoek while being paired with Hedman. The 23-year-old Koekkoek logged 41 games over the past two seasons,  but played strong for AHL affiliate Syracuse during the Calder Cup playoffs. Picking between them is essentially splitting hairs. Koekkoek  appears to have the higher ceiling, and plays a cleaner game than Dotchin. Though they play different games, Yzerman might prefer a more disciplined, puck moving defenseman when choosing who to protect. At the same time, Dotchin plays a physical game, and can move the puck as well. He's not afraid to muck it up, and provides a presence that protects his teammates on the ice–while still contributing on the score sheet. As Tampa Bay Times beat writer Joe Smith wrote, Dotchin has stood out to management, especially in the NHL and AHL during Syracuse's Calder Cup Final run.
With two younger defensive prospects and after having a less than stellar season, predict Sustr to be exposed and Koekkoek protected. Don't be surprised, as many others have written, if Yzerman pulls something off to keep all of his young defensemen so Dotchin remains in the fold.
Projected Protection List
F – Steven Stamkos (NMC)
F – Ryan Callahan (NMC)
F – Tyler Johnson (RFA)
F – Nikita Kucherov
F – Vladislav Namestnikov
F – Alex Killorn
F – Ondrej Palat (RFA)
D – Victor Hedman (NMC)
D – Anton Stralman
D –Slater Koekkoek (RFA)
Vasilevskiy is truly the only option to protect as 24-year-old netminder Kristers Gudlevskis is unlikely to be taken with other options presumably available from other teams. Of the decisions, it seems to be the least of Tampa's worries.
The Lightning, despite missing the playoffs and sustaining injuries to one key player after another, still have a strong lineup that will absolutely compete next season. Peddling Drouin off certainly helped matters, but the third player to protect defensively is a tough decision to make. At the end of the day, though, Yzerman has shown skills deft enough to take a challenging situation and somehow make it work out. Don't be surprised if he finds a way to do it again.
Photos courtesy of USA Today Sports Images