With the Anaheim Ducks scuffling on the ice, falling in the standings, and heading toward a trade deadline that could determine the direction of the franchise for years to come, there's a lot to consider when looking at any transaction. Today, the club moved captain Ryan Getzlaf and forward Jakob Silfverberg to injured reserve, recalling Danny O'Regan, Vinni Lettieri, and Buddy Robinson in their place.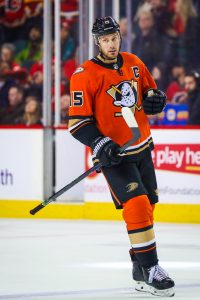 It's not that a move like this is akin to throwing in the towel–if players get injured there's not really another option–but losing Getzlaf and Silfverberg does certainly raise some questions about the Ducks' ability to compete in the Pacific Division race. While he's not the dominating two-way presence he was earlier in his career, Getzlaf is still an effective player for Anaheim with 31 points in 47 games. Never a huge goal scorer, he has only found the back of the net three times, but there's a reason why he still plays nearly 19 minutes a night and takes more faceoffs than anyone else in the lineup.
Silfverberg meanwhile has also seen his goal-scoring numbers plummet in recent years. After posting at least 17 in five consecutive seasons, he had just eight last year and just five through 53 games this season. While he still has 21 points and is a positive defensive player, he's not the dynamic offensive threat he once was.
Still, losing both puts a strain on the depth of the Ducks, especially if they were to trade names like Rickard Rakell and Nicolas Deslauriers at the deadline. The team is already using many of their top prospects in the lineup, though this would likely be good news for someone like Max Comtois, who has found himself on the outside looking in despite leading the Ducks in scoring last season.
At any rate, the team will have to make do for the next little while without the services of two veteran forwards. It is not clear how long either will be out, though they must serve seven days on injured reserve from their last game played. For Getzlaf, that's March 4 after missing the last couple, but Silfverberg played (and scored) on Tuesday.
Photo courtesy of USA Today Sports Images