Veteran goaltender Thomas Greiss has officially announced his retirement from the NHL after a 14-season career, per the league. The 37-year-old, who last played for the St. Louis Blues and was an unrestricted free agent, ends his career as one of Germany's most accomplished goaltenders.
During the 2022-23 season, Greiss appeared in just 21 games for the St. Louis Blues in a backup role, finishing with a 7-10-0 record, a 3.64 goals-against average, a .896 save percentage, and one shutout. However, as offers for the upcoming season failed to entice him, Greiss said he ultimately decided to hang up his skates and embark on new ventures outside the sport.
After being drafted in the third round (94th overall) by the San Jose Sharks in the 2004 NHL Draft, Greiss embarked on a journey that saw him suit up for six teams throughout his career. In 368 regular-season games, including stints with the Blues, Detroit Red Wings, New York Islanders, Pittsburgh Penguins, Phoenix Coyotes, and Sharks, he accumulated a record of 162-130-37. Greiss posted solid numbers across the board with a 2.77 GAA, a .911 save percentage, and 16 shutouts.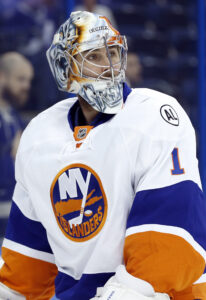 His most notable tenure came with the New York Islanders, where he enjoyed his best statistical seasons. From 2015 to 2020, he compiled a regular-season record of 101-60-17, accompanied by a 2.70 GAA, a .915 save percentage, and ten shutouts. In the playoffs, Greiss wasn't a member of some recent teams that made it into the Conference Finals, but he did post quite strong numbers on the island in the postseason – recording a 7-8 record, a 2.41 GAA, a .921 save percentage, and one shutout. He did notably play a pivotal part in the Islanders' first playoff series victory since 1993, helping the team secure a six-game triumph against the Florida Panthers in the 2016 Eastern Conference First Round.
The 2019 Jennings Trophy winner sits only behind Washington Capitals legend Olaf Kolzig among tenure-related statistical categories for German goalies in the NHL. While Kolzig represented Germany internationally, he was actually born in South Africa – making Greiss the first Germany-born goalie to surpass the 100-game milestone. Leading his fellow countrymen in games played, he ranks second only to Philipp Grubauer of the Seattle Kraken in GAA, save percentage, and shutouts. Internationally, Greiss also represented Team Europe at the 2016 World Cup of Hockey and Germany at the 2006 Turin Olympics and the 2010 Vancouver Olympics, also playing three seasons with the DEL's Kolner Haie before coming to the NHL with San Jose.
It's worth noting, however, that Greiss was banned from representing Germany internationally in 2021 after social media activity that put into doubt "his attitude towards [the national team's] values."
It was fair to wonder whether Greiss would play at least another season at home if no NHL offers came, as the national team ban didn't bar him from competing professionally in the DEL, but that doesn't seem to be the case. His departure from St. Louis has officially left the door open for youngster Joel Hofer to take a full-time backup spot behind Jordan Binnington next season.
Photo courtesy of USA Today Sports Images